This article is more than 1 year old
Nimble Storage clusters up for scale-to-fit flash-in-a-can
Big as you like... with boosted controller
Hybrid iSCSI storage array start-up Nimble Storage has added a new controller, clustering and expansion shelves to enable scaling of performance and capacity separately or together.
Nimble Storage produces a CS200 series of hybrid iSCSI storage arrays using NVRAM, SSD caching and disk drives, with compression increasing the effective capacity 30 to 75 per cent on average. These started shipping in August 2010.
The firm says that all-flash-arrays should be used where extreme performance is needed but argues that in the standard, modular storage array area – for applications such as OLTP, SQL Server, Exchange, SharePoint and VDI – the use of a ground-up design hybrid array blows traditional disk drive arrays away. And this includes traditional arrays that have flash retrofitted, such as EMC's VNX and NetApp's ONTAP systems, says Nimble.
The storage firm says it has now racked up 900 CS200 deployments – by 500 customers.
Nimble has also given the CS200 a big brother, the CS400 controller series, and SSD cache expansion is available for all models except the entry-level CS210. A new version of the Nimble OS, v2.0, introduces clustering of the CS200 and 400 arrays. Expansion shelves enable capacity expansion.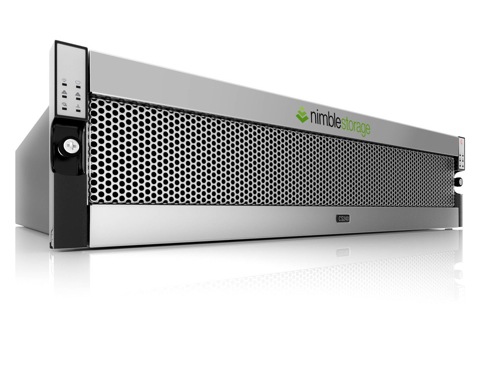 All the secret sauce is found behind the CS400 front panel.
The SSD cache in the controllers can be scaled up, providing four ways of scaling Nimble's storage:
Boost performance by upping the cache.
Boost performance more by scaling from a CS200 to CS400 controller. This is non-disruptive.
Boost capacity by adding up to three ES-Series expansion shelves.
Boost capacity and performance by clustering CS arrays together.
Nimble claims its scaling flexibility – aka "scale-to-fit" – is better than that of scale-out clusters (such as those punted by Isilon and NetApp, which scale capacity and performance together), or scale-up arrays.
Adding nodes to a cluster provides linear scalability, according to Nimble, with 100s of TB of capacity and hundreds of thousands of IOPS. Data volumes can be striped across the nodes in a cluster. As nodes are added to or removed from the cluster, the data striping is automatically re-balanced.
The CS400 controller has 12 processor cores and 24GB of memory. That contrasts with the CS200 which has four cores and 12GB of DRAM, indicating the CS400 is at least three times more powerful. There are three CS400 variants: 420 with 12TB of raw disk capacity, 440 with 24TB, and 460 with 36TB. The SSD cache can scale from 640GB to 2.4TB
There are three expansion shelves: the ES1-H25 has 12TB of usable capacity and 160GB of flash; the ES1-H45 has 34TB of disk and 300GB of flash; and the ES1-H65 has 36TB of usable disk and 600TB of flash. They each have two 6Gbit/s SAS connectivity modules and dual, hot-swap SAS controllers.
Speeding up mainstream apps
Nimble is going full-tilt for mainstream enterprise favourites such as Exchange and SharePoint and says it runs them faster than the competition, and it isn't shy of naming them, quoting Microsoft Exchange ESRP benchmark results. The company boasts it can run 40,000 mailboxes off a 12-disk system and claims:
Dell Compellent runs 10,000 mailboxes off 72 disks
Dell EqualLogic runs 10,000 mailboxes off 32 disks
NetApp runs 12,000 mailboxes off 64 disks
EMC needs 34 disks for 10,000 mailboxes.
Data protection is by snapshot, with replication for disaster recovery, and Nimble has customers saying Nimble backups don't impact application or storage performance at all and are space efficient. The replication is said to be virtual machine and application-consistent. Nimble supplies an example of daily snapshots over 10 days for an Exchange 2010 deployment with a 20GB database mirrored to a Nimble system and also an EqualLogic array. According to Nimble, the latter needed 101.1GB for its snapshot space whereas Nimble needed just 2.9GB, 35 times less.
Nimble is expanding fast and solidifying its offering in a race to establish itself before the traditional array vendors like EMC and NetApp, newer iSCSI array products like HP LeftHand and Dell EqualLogic, and newer all-flash startups – exemplified by Nimbus, Pure Storage and Whiptail – come up with something similar.
On a raw $/GB basis, Nimble hopes that its use of disk and compression provides better capacity and value than the deduplication and compression used by the all-flash array vendors. It also hopes that its flash-enhanced performance is perceived as being plenty fast enough for mainstream applications. It says the CS400 can support hundreds of virtual machines or thousands of VDI users on each array.
Nimble's marketing department wants to push the all-flash-array vendors up into a higher performance niche. The all-flash array vendors generally know they have to win mainstream appeal though, and the competition will be intense.
Nimble has partnerships with Microsoft, VMware, CommVault and Cisco, and it counts 200 value-added resellers in its channel. These new features – the expansion shelves, CS400 controller and clustering – offer great upgrade opportunities to Nimble's customers and channel, and should widen its appeal to customers generally. The products are simple to buy, appear to run like rockets, and are reliable.
We might expect a filer head to appear in the future together with broader data management features and, if demand carries on rising, FCoE access.
The new hardware, the CS400 series arrays, ES-Series expansion shelves and flash expansion options, will be available in the third quarter of 2012. Nimble OS 2.0 and its clustering will be available in the fourth quarter. No pricing information was supplied. ®