This article is more than 1 year old
Boffins: We are VAPORISING the Earth... for science
Supervillainesque move helps them learn about super-earths
A group of scientists have been practising blowing the Earth into smithereens.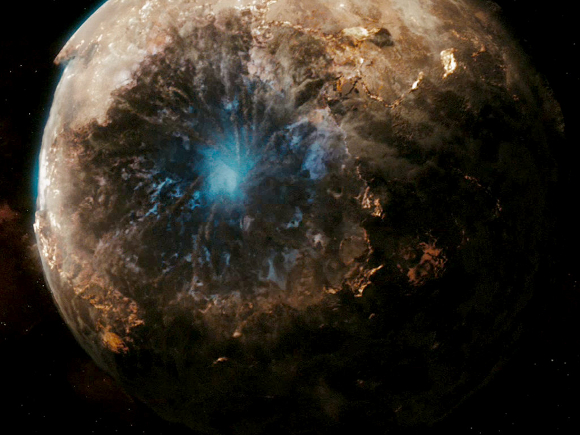 Whooooooooomph.... BOOM!
The astroboffins, who claim they are doing it for scientific reasons, have used a computer simulation to vaporise our home planet.
"We scientists are not content just to talk about vaporising the Earth," Bruce Fegley, professor of earth and planetary sciences at Washington University said from his secret lair. "We want to understand exactly what it would be like if it happened."
The researchers are running the simulations to see what conditions on super-earth planets in the universe are like.
Super-earths are rock worlds between the size of Earth and Neptune and because of the transit method boffins use to find them, they're often orbiting close to their fiery-hot stars.
The transit method of spotting planets watches the light of stars in the universe for the passing of their orbiting worlds and then uses that light to figure out the composition of those worlds' atmosphere.
Other techniques can also tell scientists the density of a planet, but with rocky planets, the amount of different elements that can add up to the same density makes definitive answers hard to find.
Exposing the Earth to the same heat as a rocky world close to its star, the researchers hoped to figure out what astronomers should see in the atmospheres of super-earths so they can figure out their composition.
The boffins turned up the heat on two models of Earth, one regular and one that was like the Earth before the continental crust formed. They blasted the planets with temperatures ranging from 270°C to 1,700°C, much, much higher than our planet's average 15°C.
"The vapour pressure of the liquid rock increases as you heat it, just as the vapour pressure of water increases as you bring a pot to boil," Fegley said. "Ultimately this puts all the constituents of the rock into the atmosphere."
So that's good and sciency, but what about when the Earth was completely vaporised?
"You're left with a big ball of steaming gas that's knocking you on the head with pebbles and droplets of liquid iron," he said. "But we didn't put that into the paper because the exoplanets the astronomers are finding are only partially vaporised." ®