Console content can cause crime, claims cop
Blame game played down under
---
Australian police have pointed the finger at Grand Theft Auto and other games of its kind for an alleged increase in the acceptance of violence in the country.
Barely a month has passed since Australia introduced an 18+ rating certificate for games which will allow titles such as the hotly-contested Mortal Kombat to be sold on Aussie soil. Now the country has reached another modern videogame milestone: blaming violent games for an increase in aggressive behaviour.
New South Wales Police Commissioner Andrew Scipione reckons there's "nothing more potentially damaging than the sort of violence [kids are] being exposed to, be it in movies or console games they're playing", the Sydney-based Telegraph reports.
While the top cop accepts the vast majority of gamers are unaffected by their regular dose of virtual crime", the streets of modern Australia apparently allow a "disturbed minority to live out the lifestyle they experience through their consoles.
"You've got some potentially really disturbed young person out there who's got access to weapons like knives or is good with the fist, can go out there and almost live that life now in the streets of modern Australia. That's concerning.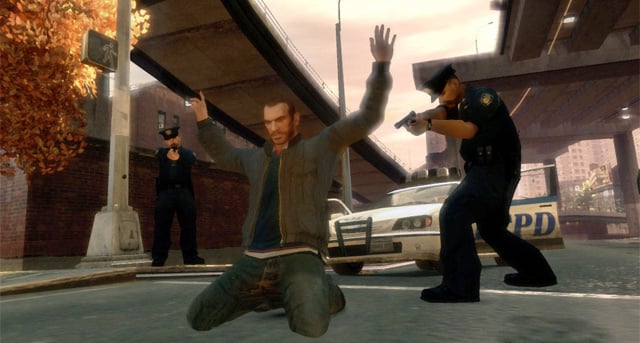 Ah, shoot..
"You get rewarded for killing people, raping women, stealing money from prostitutes, driving cars crashing and killing people," said Scipione - an obvious reference to GTA.
"How can it not affect you if you're a young adolescent growing up in an era where to be violent is almost praiseworthy."
This time last year, Blighty's cops tried to say videogames were partially at fault for the London riots.
But it's good to remember that some gaming experts say violent videogames reduce crime and lower aggression. ®