Russian rocket fails to orbit 2 satellites after booster bungle
Cargo floats in space after burn-boost orbit ballsup
---
Russian space agency Roscosmos has suspended use of its Proton-M rocket carriers with Briz-M boosters after one of them failed to put two satellites into orbit late yesterday.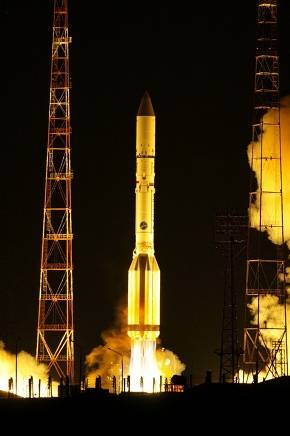 The Proton rocket was launched successfully from Baikonur, but the secondary engine burn failed when the Briz-M booster only fired for seven minutes, instead of the 18 needed to push the sats into orbit.
"All further Proton launches will be postponed until the emergency commission, which is likely to be established soon, determines the cause of the failure," a source told national news agency RIA Novosti.
They added that the booster and its cargo could potentially become a hazardous piece of space junk after the mishap, the latest in a line of failures for the Russian space endeavour.
The two satellites, Telkom-3 and Express MD2 were built by Russian space firms, with help on the Telkom-3 from Thales Alenia Space. The sats were supposed to be used to provide TV broadcast services in Indonesia, and marked the first – and likely the last – time the country bought any satellites from Russia.
Both satellites were insured, Telkom-3 for 225m rubles ($7.13m, £4.55m) and the Express MD2 for 1.17bn rubles ($37.08m, £23.66m).
Around the same time last year, another Briz-M booster malfunctioned, leading to the loss of the Express AM4 telecoms satellite. ®