WD's 2TB Green giant can't jam hardness into standard slot
Little big boy
---
WD has added a 2TB Green small form factor drive to its line-up.
The Tweaktown website has a picture of the drive in a Japanese retail store.
WD's website says it is 15mm thick – meaning it won't fit in standard 2.5inch drive bays you'd find in a laptop or netbook; comes in 1.5TB and 2TB versions; and has a 3Gbit/s SATA interface with a 8MB cache. With its Intellipower rotation, meaning something around 5,500rpm, it is for secondary storage applications.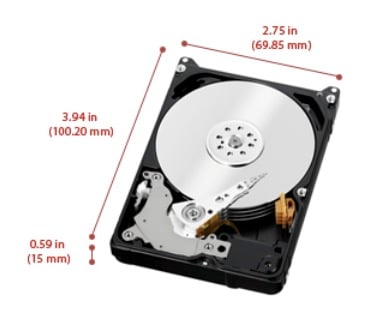 WD image of 2TB Green SFF drive.
WD's own picture of the drive indicates it is a 4-platter unit. WD did have a 2TB Scorpio Blue, spinning at 5,400rpm, but, after the colour-coding branding came to the fore, the Blue SFF line maxes out at 1TB. It looks as if the 2TB Scorpio Blue has effectively become the 2TB Green drive. ®