This article is more than 1 year old
Beer mats to tout tat to mobiles over wireless NFC
Careful where you're spilling that pint
A phone on a pub table may be threatened by more than puddles of ale as RapidNFC has signed a deal with Rutland Print to craft beer mats that beam web addresses to mobes over the air.
Quite why one would want wireless Near Field Communications (NFC) embedded in something designed to mop up booze isn't clear. An NFC tag can transmit a URL or other minimalist data to a nearby handset, and even RapidNFC admits it's a novelty item. But the company has apparently had had considerable interest from brands wanting to be the first on the block with radio-tech-enhanced tableware.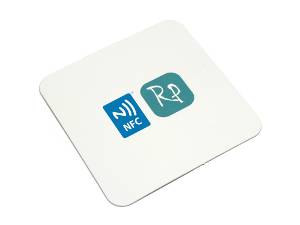 Your logo could appear here, under a pint glass, at 30 pence a pop
The mats don't come cheap, compared to their cardboard equivalents. Prices vary by quantity, but even buying a load of them will only get the price down to 30 pence or so - however that's for a printed and laminated mat so it's probably worthwhile for the right brand.
RapidNFC sells all kinds of NFC tags, and a good deal cheaper than Nokia which is still trying to punt NFC business cards at £7 a pop. The majority of tags sold by RapidNFC are blank stickers, which are then attached to the back of posters, but the company also sells a load of other formats including laundry-safe tabs which one Australian company is busy embedding into, er, surf boards.
This flexibility is supposed to be what's good about NFC, but it's perhaps getting too flexible. Technology needs a "killer application"; something which makes customers walk into a shop and demand an "NFC capable" handset, but NFC's host of applications has devotees feverishly eulogising while the public continues to wonder what it's all for.
Then some of those NFC applications turn out to be less than secure, and the whole brand is blacked in the public mind. Not that "NFC" is a brand anyway, the wireless technology standard changed to "N-Mark" more than two years ago and denied ever being called "NFC", but no one really noticed.
Despite Nokia's cool speakers (tap them together and they turn stereo), and Birds Eye pushing NFC posters into UK cinemas, the technology is perceived as enabling pay-by-bonk, and will live or die on the success of proximity payments.
The latest speculation from NFC Times indicates Apple won't be joining the fray this year, based on the availability of components, so NFC won't be cool until 2013 at best - which might limit the appeal of NFC-enabled beer mats. ®