Fallen flash drive star STEC's revenues circle drain
Flash boom bang: solid-state not so solid after all
---
One-time solid-state drive star STEC saw losses greater than its revenues in its second 2012 quarter. It's in a meat-grinder, facing class action lawsuits, an SEC insider trading case, and no uptick in demand as new products crawl oh-so-slowly through OEM qualification processes. Take a wrong turn or two in the flash business and you get screwed.
Let's get the horrible up-front numbers dealt with first. STEC revenues for the quarter were $40.7m, less than half the year-ago quarter's $82.5m. The net loss was a truly dreadful $49.6m, which compares to a profit of $9.7m a year ago. The comparisons with the first 2012 quarter are dire too. First quarter revenues were $50.4m and the net loss was $10.7m.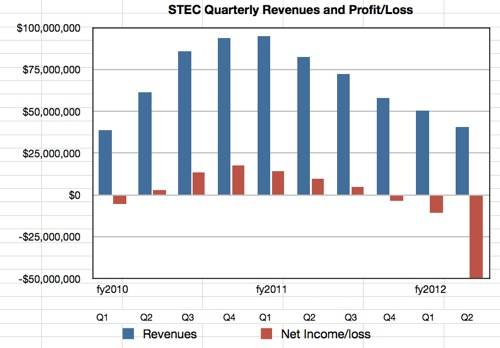 The chart shows the gory picture: six quarters of declining revenue and three quarters of losses culminating in this quarter's plunge. If this sort of thing continues then STEC is headed for oblivion.
Management, of course, says it isn't going to continue. The single-channel model of selling to a few major OEMs has changed, as CEO Manouch Moshayedi said in a release: "Less than a year ago, we began the strategic process to fundamentally shift our business model from addressing the SSD market solely through traditional OEMs to a model mixing OEMs with emerging SSD system vendors, enterprises and non-traditional end-user customers – to one selling to OEMS and system VARs."
STEC has also added multi-level cell (MLC) flash to its fast single-level cell products and moved into the PCIe server flash card form factor alongside its initial SSD products. That's the good stuff. The not-so-good news is that OEM qualification is taking a long time. Worse still though is that Moshayedi is facing an SEC insider trading lawsuit and STEC itself facing a class action lawsuit which it is trying to settle.
The flash firm said in its earning call:
On July 30, 2012, the parties to the previously disclosed federal class action filed against the Company and several of its senior officers and directors in the United States District Court for the Central District of California attended a mediation to explore a potential settlement. During the mediation, the parties considered a settlement that would create a fund for the benefit of the settlement class, with no admission or concession of wrongdoing by the Company or any other defendants, in exchange for a full and complete release of all claims that were or could have been asserted in the federal class action.

...
The Company has revised its assessment of this loss contingency and estimates the range of probable loss for the federal class action to be between $34 million and $36 million...
The Company has recorded the estimated settlement loss and related estimated insurance recoveries in other (expense) income in the accompanying statement of operations resulting in a net charge of $15 million for the second quarter ended June 30, 2012.
Earnings call details
STEC's earnings call revealed a few more details. Moshayedi addressed the SEC lawsuit straightaway, saying: "I intend to vigorously defend myself against unsubstantiated allegations and we expect that we and an independent evaluation of facts we'll find the complaint is without merit." Let's hope so. STEC's evident willingness to settle the class action lawsuit might incline us to think a plea bargain is a possibility with the SEC.
Moshayedi said that the channel-broadening exercise was progressing well and STEC had recruited more sales and marketing staff and is focusing on some vertical markets – meaning the cloud and data centres. The Kronos PCIe product should bring in revenues in the next few quarters and fourth generation SSDs should start shipping to major OEMs soon.
That's well and good but STEC is late to the PCIe party and competitors like Intel, LSI, Micron, OCZ, TMS, and others are there already and flogging their flash cards as fast as they can. Having good flash management – like STEC's CellCare – and caching software is showing table stakes these days: virtually everyone has that stuff, the ability to make cheap MLC flash usable in enterprises. What else have you got, STEC?
Moshayedi claims CellCare is better than competitors' flash-management technologies, and STEC technology delivers similar pricing but better performance and longer endurance. He said competitor products could do 10 drive sequential data writes a day whereas STEC could do 26 – 2.6 times more – and made those claims for both random and sequential data.
The embattled CEO added: "Our primary SAS SSDs competitor is using maybe 25 per cent more Flash across their SSDs, and semiconductor manufacturer [is] subsidizing it fully and letting them just sell into the market just to be in the market."
Yes, that would be tough, and Moshayedi said: "We don't sell products because we just want to take market, we want to sell products that customers need and we want to make profit off of it."
Nicely said. But STEC isn't making a profit; it has just made a thumping great loss after two preceding loss-making quarters. The basic problem here is that the bulk of STEC's revenues come from sales of its older third-generation ZeusIOPS products and these are fading, while generation four product and PCIe product sales through an expanding channel are taking a long time to build, and no immediate relief is foreseen.
Lengthy qualification cycles
Why is OEM and large customer qualification of new products taking so long? Moshayedi said:
So I think our Gen 4, a few challenges that we started with to begin with we had gone from FPGA to ASIC, which was a complete different approach to Gen 4. We went from a from our primary NAND supplier to a second NAND supplier for usage and the flash acts completely, differently than what we've been working with for the past ten years or so, that has a difference. We went from a 50-nanometer NAND to a 30-nanometer which was a big difference.

We went from SLC to MLC that made a big difference, at the same time while we were in the middle of production with qualification we went from a 3x-nanometer NAND to 2x-nanometer NAND. So there's been a lot of changes from the day that we started qualification of Gen 4 to today. So basically now we're at the point where most of our customers are just qualifying a consumer MLC into 2x-nanometer area.
That's five reasons why it is taking longer. STEC's competitors must be laughing all the way to the bank.
The company expects the next quarter to be what it calls a "transitional quarter" again, with revenues of between $40m and $42m – and, we might predict, an associated loss of between $12.5m and $14.4m. There is a mountain to climb before profitability returns. The soonest El Reg's storage desk can see this happening is in three to four quarters' time. ®