Snap suggests Apple out to 'screw' hardware hackers
Flatblade, philips, pentalobe and now... WTF?!?!
---
Apple is designing its own, entirely proprietary screw-head in a bid to prevent punters and repair shops getting inside its future iDevices.
At least, it is if - and it's a very big 'if' - you take a piccy posted on the interweb at face value.
Captioned "a friend took a photo a while ago at that fruit company, they are obviously even creating their own screws", the snap shows a screw with a rounded thread and a head of maze-like complexity.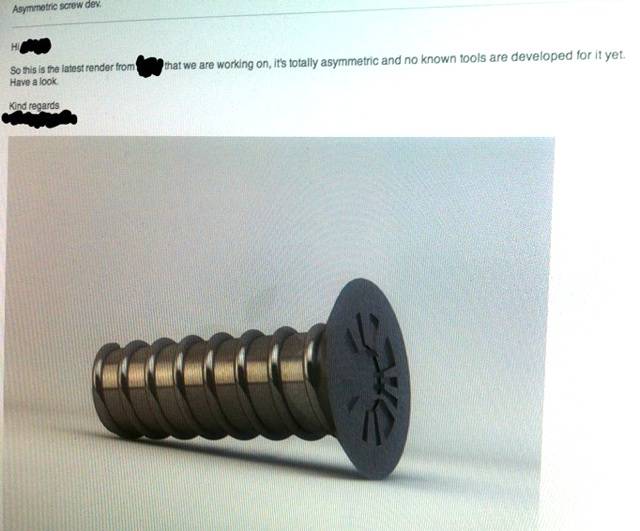 Source: r/apple @ imgur
Apparently, it's a snap of an email, which mentions the complex head is "totally asymmetric" and entirely unburdened by third-party screwdriver support.
Even if it's not a fake - and we all know how easy is to knock up authentic-seeming crap, which is what we reckon this is; there's literally nothing here to confirm the claimed source - does it really matter?
Head design details will quickly slip out of the Chinese IT industry sieve, and there'll be compatible screwdrivers aplenty on eBay before iFixit.com et al have completed their obligatory iPhone 5 and iPad Mini take-aparts. ®