This article is more than 1 year old
How talent-spotting boffins help Team GB bag Olympic gold
Amateurs plucked from obscurity, shoved into sporting history
Fancy a trip to Rio in 2016? Getting on the British Olympics team might be one way of doing it.
Sound ridiculous? Maybe not: Helen Glover, who last week won Britain's first gold medal at London 2012 along with rowing partner Heather Stanning, only started rowing four years ago in 2008. London was her first Olympics competition.
Glover was a teacher drafted into Team GB using a 2007 programme started by gold-medal rower Sir Steve Redgrave for UK Sport called Sporting Giants. The goal of the programme was to find tall and talented contenders in the fields of rowing, handball and volleyball: sports for which it is traditionally hard to find contenders, or where Britain had little presence – such as in handball, which has been an Olympic sport since 1936.
Overall, 11 athletes were selected for London 2012 in rowing, canoeing and handball using Sporting Giants and six similar programmes by UK Sport, listed here.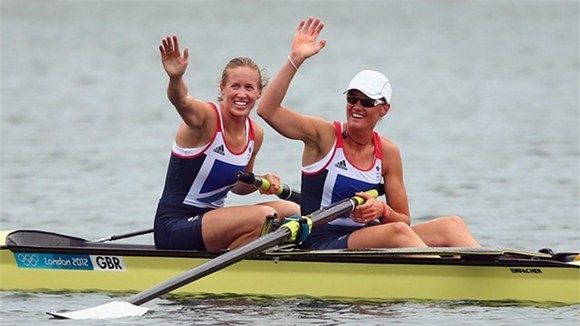 Glover, left with crew mate Stanning: London 2012 was Glover's first Olympics. Pic credit: London 2012
Their presence has helped nudge Great Britain to its best Olympics performance in a century, certainly within recent years. Glover, with Stanning, might also have provided a vital psychological boost for Team GB after we missed out on "guaranteed" gold in men's road cycling during the weekend before.
By Tuesday, team GB had beaten its Beijing haul. The British team won 19 golds and 47 medals in total during the previous Olympics in 2008 – where we ended up fourth behind China, the US and Russia.
Programmes like Sporting Giants represent a growing application of science and selective rigour to sport by nations like Britain in a world where performance enhancement drugs are banned and microsecond performance vital as records keep tumbling.
UK sport has run programmes across 17 sports including taekwondo, flat-water canoe/kayak, skeleton and bobsleigh, archery and – yes – cycling, where we have dominated the gold-medal tables, snatching both existing titles and a few new ones.
Former British Olympics team coach Ben Oakley, who coached Team GB for the South Korea and Barcelona Games, spoke to The Reg about the tighter marriage of science and sport. Oakley now heads up sport and fitness for the Open University.
The former coach said: "There's an increasing use of science within sport, of sport and science to gain minimal margins. The 'sciencification' of sport, has been going on for a while but as the stakes get higher you see more of these initiatives."
Prior to Sporting Giants, Britain seems to have dabbled with placement of athletes using something known as "talent transfer". This is where existing athletes swap their existing discipline, where people with specific skills and body types are matched to another suitable discipline.
Remember Rebecca Romero? She first won silver for Britain rowing the quadruple scull at the Athens Games in 2004 and only took up cycling in 2006, winning two golds for Great Britain at the 2008 Beijing Olympics.
Britain has not been alone in applying talent transfer to get results. China moved Chen Zhong from basketball to taekwondo in 1995 and within five years she had been selected for the national team. Zhong went on to win gold at the 2000 Olympics - where taekwondo made its debut as an Olympic sport.
A time for tall people
In an age of reality TV programmes such as Britain's Got Talent or The Voice, Sporting Giants' process has a ring of the familiar: it searches the public for new talent, selects a few and then watches them perform to see who comes out on top.
In reality, they couldn't be more different. Competition to join Sporting Giants was intense: Glover was one of 4,500 applicants who initially signed up in 2007 and she was part of one the 200-strong batches of people that were tested at a time at the England national sport centre in Bisham Abbey.
The basic entry requirement was also strict. Never mind a sneaking sense you'd quite like to give rowing a go, first you had to be tall: the tallest woman on Sporting Giants was 192.7cm (6'4") and the tallest man 217.3cm (7'2").
When it comes to rowing, the taller the better – ideally six feet and more. Also considered is wing span – the distance from hand tip to hand tip – with the greater distance favoured: a long wing span indicates "long levers" and a long stroke length – rather like Usain Bolt's huge stride length on dry land. A weight lifter would have a different body type: shorter with shorter wingspan.