Doctor Who gets one-off special to mark Time Lord's 50th year on telly
Mark Gatiss pens An Adventure in Space and Time
---
Doctor Who passes an important milestone in 2013 having - by then - been on British TV screens for 50 years.
It's unsurprising then that the Beeb has decided to uncork a special one-off drama to celebrate the Time Lord's undying appeal with sci-fi fans.
The telly show was first aired in glorious black and white on the BBC way back in 1963 and starred William Hartnell as the very first Doctor, appearing in episode one: An Unearthly Child.
"This is the story of how an unlikely set of brilliant people created a true television original," said quality TV drama writer Mark Gatiss, who has penned the 90-minute drama that will go out on BBC Two at some point next year.
The BBC explained that the drama would look at the many personalities involved in bringing the series to life. Auntie added:
An Adventure in Space and Time will tell the story of the genesis of Doctor Who since its first broadcast on 23 November 1963.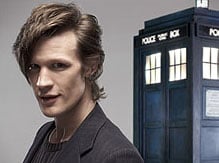 Actor Matt Smith is set to appear in the seventh
series of the revamped Dr Who next month
Current Dr Who showrunner, Steven Moffat, said the "story of Doctor Who is the story of television - so it's fitting in the anniversary year that we make our most important journey back in time to see how the TARDIS was launched."
The Beeb said it would reveal details about the production, including who might star in the drama, next year.
Get your early bets in now, Reg readers, on who could appear on our screens as Hartnell playing the Doctor. ®