Fujitsu tosses VMware cloud-in-a-box at biz newbies
Skewered by a SKU
---
EMEA private cloud wannabees can now enjoy servicing themselves with a single, ready-to-use, all-in-one Fujitsu private cloud product.
The company's Dynamic Infrastructures for VMware vCloud converges 4 to 18 Primergy compute blades, up to 144TB of Eternus storage, Brocade networking and VMware's virtualisation and vCloud Director in a rack with a single SKU (stock keeping unit or orderable item) with one Fujitsu service contract, including a mandatory onsite deployment service.
Users will self-provision pre-configured infrastructure and application services from a catalogue. The system supports from 100 to 450 virtual machines (VMs) and can be installed and deployed in a few hours. Management is through VMware's vCloud Director.
In more detail, the entry-level model IX5673 M1 configuration includes:
Admin Server: 1x Primergy RX200
Managed Servers: 1x Primergy BX900 blade chassis with up to 18 BX924 (XEON E5-2600) blades
Networking: 1x Brocade FastIron WS 648G entry-level Ethernet campus switch
Storage: 1x Eternus DX90, an entry-level dual-controller disk drive array
Rack Infrastructure: 1x Primergy Rack 42U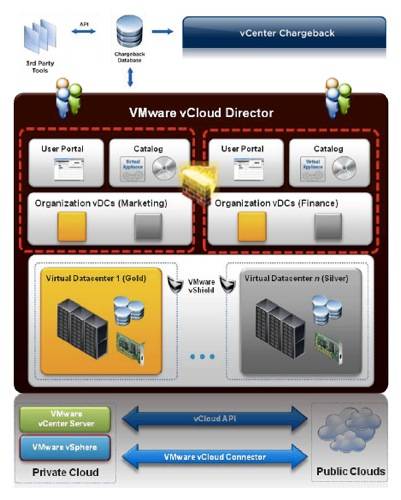 Fujitsu private cloud in a box components
Fujitsu says an enterprise model with higher scalability is planned in a future release.
This system, we might call it an "Fblock", is in the same converged systems area as the EMC/Cisco Vblocks, but not in the same area as the less tightly boxed template-defined Cisco/NetApp FlexPods and EMC VSPEX systems.
The product is available in the EMEA region, with recommended retail pricing of £220,000 for a 4-blade system and £650,000 for an 18-blade top-of-the-line rack. That's £1,444 per VM if that's a metric you can use. ®