Deadly pussies kill more often than owners think
New study: Most of the time they just leave victims to die
---
Housecats should be kept inside more often to keep them from their daily killing sprees, a study shows.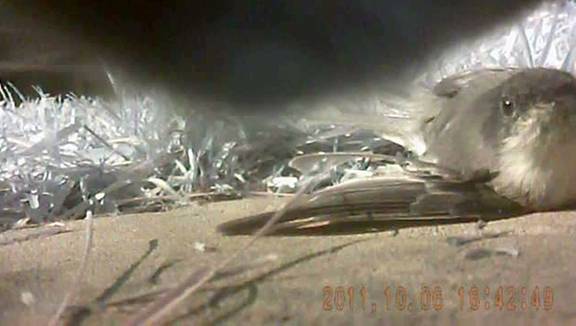 KittyCam at the scene of the crime. Pic credit: National Geographic & University of Georgia
Those cute kittens whose faces are peer from endless posts on Pinterest are actually predators, and a third of those trailed in a county in Georgia are wandering around outdoors capturing and killing other animals.
The army of assassins was discovered by folks from the University of Georgia and the National Geographic Socity, who strapped video cameras around the necks of 60 cats to record their atrocities for a year in a project known as KittyCam.
"The results were certainly surprising, if not startling," said Kerrie Anne Loyd of the University of Georgia, lead author of the study.
"In Athens-Clarke County, we found that about 30 per cent of the sampled cats were successful in capturing and killing prey, and that those cats averaged about one kill for every 17 hours outdoors or 2.1 kills per week.
"It was also surprising to learn that cats only brought 23 per cent of their kills back to a residence. We found that house cats will kill a wide variety of animals, including: lizards, voles, chipmunks, birds, frogs, and small snakes."
The study, presented to the Ecological Society of America, horrified animal interest groups, who said that the cat carnage was taking out whichever animal they cared about.
"If we extrapolate the results of this study across the country and include feral cats, we find that cats are likely killing more than four billion animals per year, including at least 500 million birds," Dr George Fenwick, president of American Bird Conservancy, cried indignantly.
"Cat predation is one of the reasons why one in three American bird species are in decline."
Michael Hutchins, chief exec of The Wildlife Society, was equally terrified.
"I think it will be impossible to deny the ongoing slaughter of wildlife by outdoor cats given the videotape documentation and the scientific credibility that this study brings," he said.
The murderous beasts aren't just a problem for other wildlife however, they're also in danger in the outside world themselves. Nearly half of the felines can run into trouble crossing the road, while strange cats, storm drains and crawlspaces are all worrisome as well.
Videos and pictures from KittyCam can be seen here. ®