This article is more than 1 year old
Amazon Kindle Touch Wi-Fi eBook reader review
Wordy tappinghood
Having so many unread books at home, the Amazon Kindle and its numerous variants never really captured my imagination. I just wasn't that fussed about e-Books and using them was a slow burn, starting with iBooks on my iPhone – I'm blessed with good eyesight – followed by musing over tomes on an iPad 2.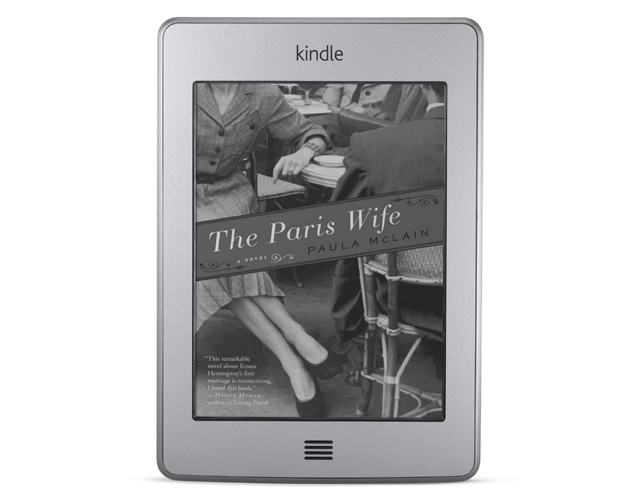 Finger friendly: Amazon's Kindle Touch
I realised the conversion to this mindset was complete though when I was searching on-line for a review product PDF manual to add to iBooks to read on the tube. I gave up, pushed my laptop to one side and then noticed the paper manual of the product on the table that I'd been blind to. Oh, how I laughed, ahem.
And then my boss handed me a Bookeen Cybook Odyssey – he's no fool, he'd used it. Actually, if it weren't for a niggling accelerometer bug, a crappy on-off switch and book store that's all in French, it would be a decent bit of kit. And thus I was bathed in e-ink and a battery life that needs a calendar rather than a watch. At least this transition wasn't too troubling as this reader features a touchscreen.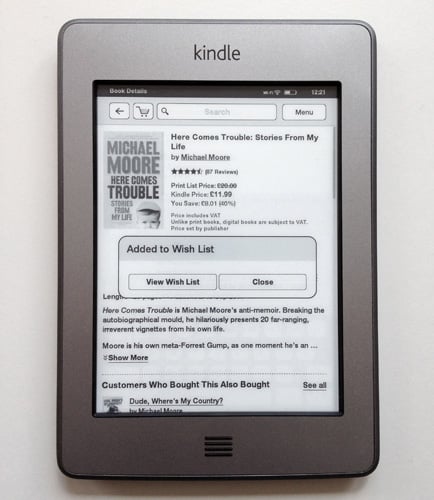 Just like the real thing, the Kindle bookstore has plenty of recent titles at discounted prices
So as a relative novice, getting my hands on the Amazon Kindle Touch seemed an exciting prospect. Given the Kindle range has a dedicated bookstore, presumably these guys set the benchmark on how to build an e-Book reader. Yet I have to admit that – following on from the Cybook Odyssey – the perceived thickness with its flat less tapered back, deeply recessed screen and 10 per cent extra weight of the Touch came as a bit of surprise.
Both readers feature a 167ppi 600 x 800 resolution 6in touchscreen display that outputs a 16-level greyscale – you'd be pushed to tell them apart. However there's no SD card slot on the Kindle Touch but you're unlikely to miss it. There's a Home button below the screen along with both micro USB, headphone sockets and a power button in the base. Turn it over and you see a pair of speaker grilles at this end – sonically it delivers the requisite excruciating gutlessness of any self-respecting tablet.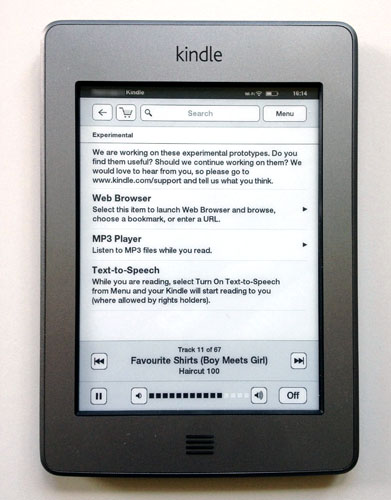 Work in progress: all functional but in need of refinement
Indeed, audio comes across as a bit of an afterthought given that the makeshift MP3 Player and Text-to-Speech functions are tucked away in the Experimental section, along with the Web browser. More on these later, but as you'll have guessed, the Kindle Touch has Wi-Fi on-board providing easy access to Amazon Kindle book store and there's a 3G version available too.