This article is more than 1 year old
Amazon Kindle Touch Wi-Fi eBook reader review
Wordy tappinghood
Buy once, read many
If you've an Amazon account – who hasn't these days? – then setting up is pretty straightforward, or so it seems. I'll admit that I wasn't too keen on having to initiate 1-Click payments – something I've avoided thus far as the Free Super Saver deliveries are not a default option – but with on-line book buying it seems to make sense.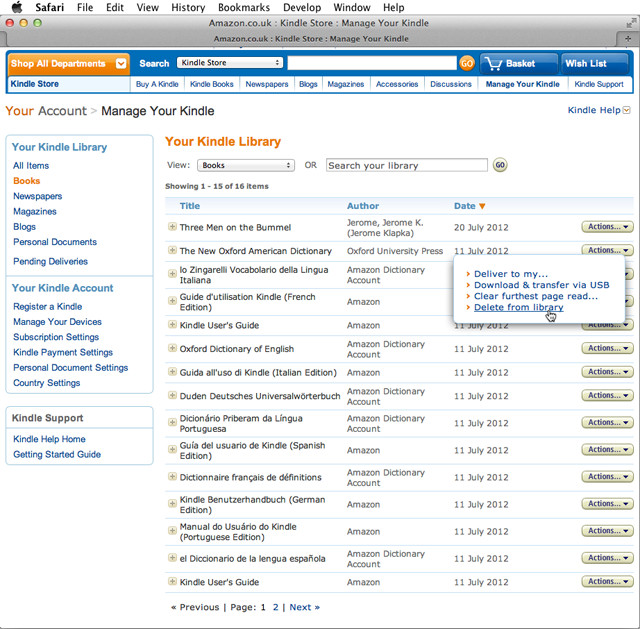 Manage My Kindle: there's a lot of clutter to deal with from the off
I'm not sure about the merits of having to set up your own @Kindle.com e-mail address though. This will only receive mail – attachments you'll want to read – from designated e-mail addresses. As soon as I tried to use it a few days later, I'd forgotten the e-mail sender address I'd chosen and had to check the Manage My Kindle section on-line and send the mail again. No doubt it cuts down on handling spam, but this arrangement seems to be more for Amazon's convenience than for its users.
Your mailings become part of your Kindle's library and end up alongside foreign language versions of the device's dictionaries and user guides. Luckily, you can delete or archive items and filter them to show Books, Newspapers, Magazines and the like, and your Personal Documents where all you mailings will appear together.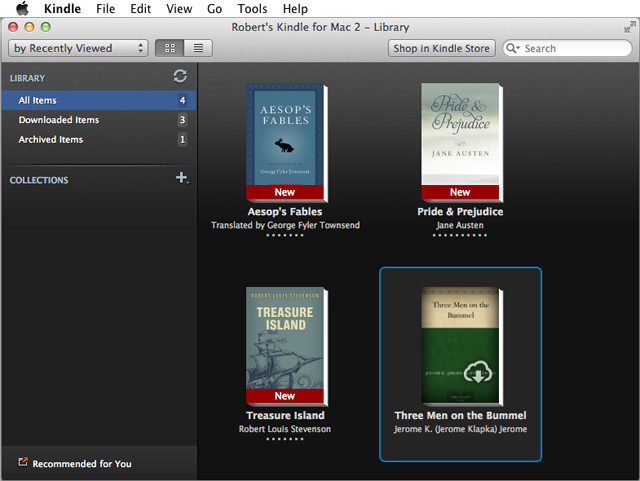 Purchased content appears on the desktop app too
And then there's the Kindle Desktop application which, truth be told, rather confused me. So there's all this stuff showing up on your on-line Kindle account, but the Kindle application shows a handful of classics provided for free and any recent purchases. The items e-mailed to your Kindle account are absent, but then again, maybe this makes sense as you most likely sent them from your computer anyway. Still, unless I'm missing a trick – beyond drag and dropping the files to the device over USB – the free classics don't appear on the Kindle Touch itself and seem to be there merely to demonstrate the reading capabilities of the Kindle desktop application.
The connectivity extends still further as there are Kindle apps for iOS and Android. The upshot of it all is that no matter whether your using a computer, mobile device or the Kindle itself you can view your purchased books. And thanks to the Wi-Fi connectivity on all of these options, Whispersync ensures the pages will always be at the place in the book you were last reading regardless of device you were last reading on. So that's all right then. Well, it would be if the Kindle desktop app supported PDFs – oh well, it was all so very nearly joined up.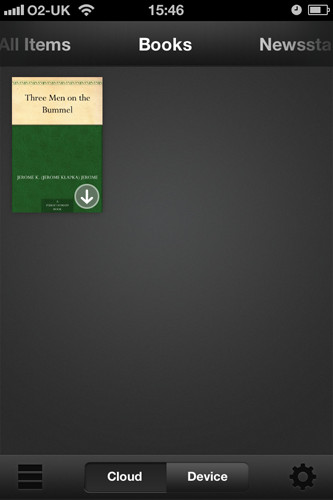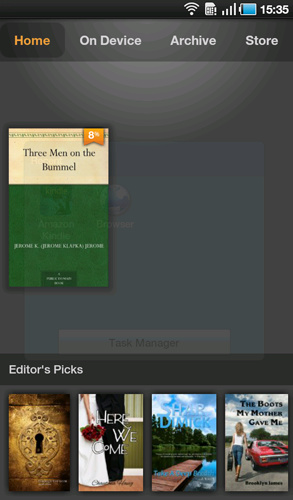 Kindle apps on iOS and Android
Alas, books converted to Amazon's favoured MOBI/AZW formats using apps such as Calibre and transferred using USB don't get sync'd to the cloud either.