This article is more than 1 year old
Amazon Kindle Touch Wi-Fi eBook reader review
Wordy tappinghood
Refreshing moments
The web browser isn't too sluggish but really only suitable for reading news and reference sites but if you give it a spin, you might want to set the refresh to every page. Grey graphics linger in the background as you click through sites, like print showing through from the other side of a newspaper. Also, the graphics that the Kindle Touch shows when asleep will remain ghosted when you fire it up to read, even though it does a refresh beforehand. But if you press the Home key, it'll perform a refresh if it gets too intrusive.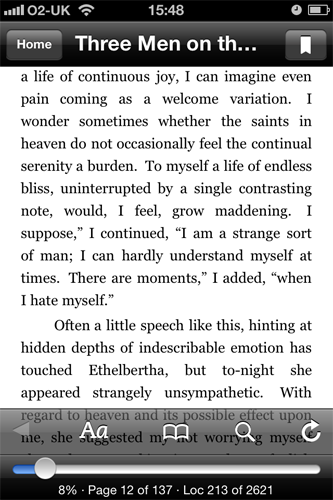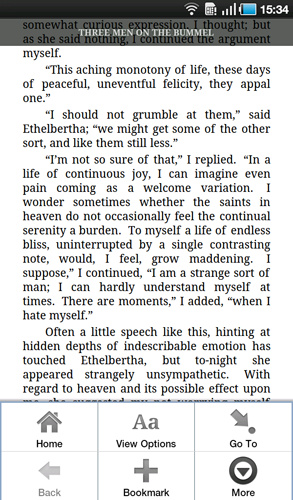 Kindle books viewed on iPhone 4S and Galaxy Tab
As for the MP3 player, Experimental does seem to sum it up, as there's no way of navigating it apart from skipping back and forth through tracks. However, I do rather expect this to be improved upon as Amazon surely has an iTunes-style music downloads plan for its portable devices. Perhaps movies too, with Persepolis, Manhattan and Buster Keaton all lending themselves well to greyscale viewing.
The Text-to-Speech sound is fairly monotone and, unless you're working through an Ikea self-assembly manual, it lacks adequate expression for long listens and ignores punctuation within speech marks. Having used so many alternatives for e-reading now, I found that the Kindle Touch seemed to demand more taps to navigate than most to get to useful features and functions. It's pinch zooming on PDFs was also quite crude, typically over-magnifying when just a subtle enlargement was needed. Incidentally, when reading eBooks, this works as a neat shortcut to change font size.
Selecting text seemed pretty hit and miss with PDFs, as it would frequently highlight one word and the dictionary then would pop-up. However, a nice touch is that selected text can be translated. You can also share highlighted text as well as add it to the Notes and Marks sections – ideal for students and pedants alike. That said, I would have liked the option to Clear All rather than having to tap and hold to delete annotations individually.
Yet perhaps the most consistently annoying aspect of the Kindle Touch turned out to be its power button placed somewhat unintuitively to the right side at the base of the unit. Sure, it has to be somewhere out of the way, but for some reason I kept assuming it would be in line with the home key and found I aways had to fumble for this, more so when tucked inside Griffin's rather fetching made-to-measure Small Elan Passport case.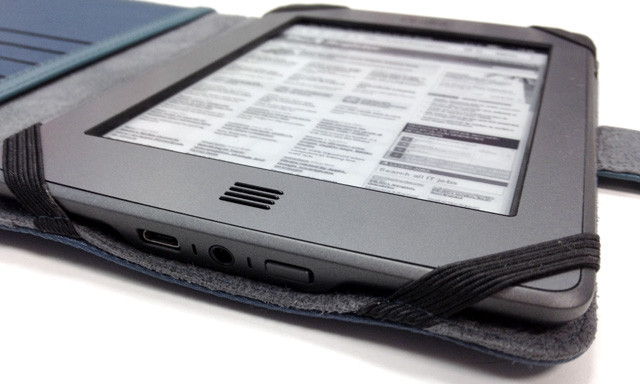 Powering on the Kindle Touch has a certain fiddle factor to it
Verdict
Initially, I had misgivings about Amazon's Kindle e-readers due to format constraints, but having used the workarounds available to good effect, this no longer remains a concern. The Kindle Touch is just the right size and its touchscreen makes for an uncluttered viewing experience. That said, navigating the user interface felt cumbersome at times and the list viewing of stored titles seems somewhat inelegant. Indeed, Amazon really should be thinking more about user expectations of touchscreen devices here, but for now, the experience is more functional than finessed. ®
More e-Reader Reviews

Kobo Vox
Amazon
Kindle Fire
Kobo Touch
Amazon
Kindle 4
Bookeen
Cybook Odyssey

Amazon Kindle Touch Wi-Fi eBook reader review
Touchscreen Wi-Fi e-book reader with the weight of the Amazon's ebook store behind it.
Price:
£109 (Wi-Fi only), £169 (Wi-Fi + 3G) RRP