Emulex hopes 16Gbps Fibre Channel will give it the kiss of life
Q4 sales flat line, records $28.8m loss
---
Emulex is pinning hopes on 16Gbps Fibre Channel Host Bus Adapter (HBA) growth after Q4 sales flatlined and it recorded a $28.8m (£18.37m) loss.
And with Broadcom's legal fangs still fastened to its ankles, it's just no fun at all for the firm in the storage networking adapter business.
Let's briefly set the scene: the company is transitioning from mainstream 8Gbit/s Fibre Channel server HBAs to 16Gbit/s and knocks out converged network adapters (CNAs) providing Ethernet and Fibre Channel over Ethernet (FCoE) connectivity which, unfortunately, have suffered from slow FCoE adoption by customers. Emulex also makes in-array silicon products.
Ethernet product supplier Broadcom launched a takeover bid for Emulex in a fiercely contested battle but lost. It sued Emulex for patent infringements during that time and the cases are ongoing with some settled to the tune of $58 million in Broadcom's favour.
In its fourth fiscal 2012 quarter Emulex recorded revenues of $129 million, up 5 per cent year-on-year and 3 per cent sequentially. The previous two profitable quarters have been succeeded by a $28.8 million loss. Some of that was due to the payment of $38.5 million to Broadcom.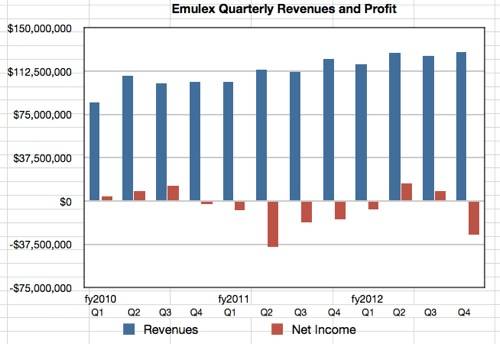 The full year results show a similar picture of revenue growth with losses; 2012 saw record $501.8 million revenues with a loss of $12.3 million. The previous year's revenues were $452.5 million with an $83.6 million loss.
The growth hope is 16Gbit/s FC with Dell and EMC signing up to take these faster HBAs.
Emulex CEO Jim McCluney said: "It's great to have so many OEMs now in production with our 16GFC technology, solidifying our time-to-market advantage over our nearest Fibre Channel competitor [QLogic].
"With these wins and the momentum we have in the x86 market, we are well positioned to gain overall market share during the 16GFC transition, which is expected to account for 30 per cent of all HBA port shipments in calendar 2013."
Looking ahead it seems the great SAN connectivity boom years are over. The combined effects of FCoE and iSCSI will drive storage networking to Ethernet over the next few years. The use of flash for primary data storage will increase and thus will be located closer to servers than traditional SANs, weakening demand for HBAs further.
Emulex' product development strategy needs to reflect these trends by, for example, sticking flash memory on its, PCIe-connected, cards and doing something software-wise with that.
Emulex expects its revenues next quarter to be down, between $118 million and $122 million. The results will be affected by payment of more cash to Broadcom. More gloom then. ®