Fusion-io eyes software, vows it's not a flash in the pan
Revenue up, net income still in the red
---
Fusion-io's server flash products are selling like hotcakes and quarterly revenues are rising like a high-speed elevator - 49 per cent growth over the year while annual revenues rose 82 per cent.
Its revenues for its fourth 2012 quarter were $106.6m, up 13 per cent sequentially, and beating the Street's expectations, with a net loss of just $2.4m: Fusion is running its business for expansion rather than profit. The year-ago quarter saw revenues of $71.7m and a $5.8m profit.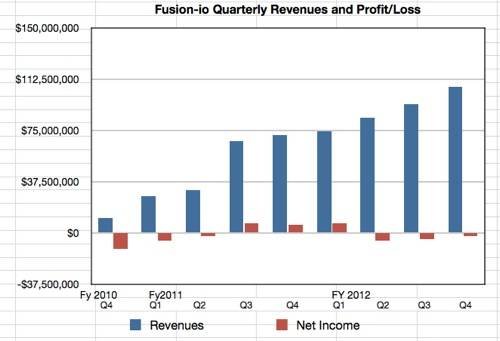 The fiscal 2012 result was revenues of $359.3m and a net loss of $5.6m, compared to $197.2m revenues and a $4.6m profit a year ago. The growth looks controlled, and Fusion is convinced it's worth laying the ground work to build a base for future revenues. Its strategy is to create a software portfolio, embracing caching, storage virtualisation and memory, cut-through memory, and ION networked flash SAN storage to make its OEM, large customer and developer relationships more sticky.
It is convinced that PCIe flash, its hardware focus, will become a commodity and software extension is the key to its future.
What did the earnings call tell us? CEO, chairman, president and co-founder David Flynn talked of "growing the team by 50 primarily primarily in R&D and sales".
He added: "The customer count has more than doubled from the 1,500 we had when we went public a year ago. Now we have approximately 3,500 customers with over 50 per cent of the Fortune 100 as customers. We're now working with over 300 alliance reseller and channel partners. This has significantly expanded our geographic reach and is now driving substantial business."
However there is still a dependency on a few large customers, as CFO Dennis Wolf revealed: "Revenue from our two largest customers [Facebook and Apple] combined grew 66 per cent year-over-year and represented 55 per cent of our total business." That percentage is dropping; it was 65 per cent at the start of the year and 53 per cent at its end.
Wolf also said: "Our year-end headcount stood at 669 people, up 228 employees from the prior year primarily in sales and R&D. We would expect this pace of hiring to continue this year."
Flynn boasted of "a large media software company that experienced a 10 times, not 10 per cent, that's 10 times performance improvement in its data centre by replacing legacy infrastructure with Fusion-io".
Fusion's main competition in the enterprise space is Oracle's Exadata and EMC's VFCache. HP, Dell and IBM are shipping server products with Fusion's ioDrive 2 flash inside and Cisco is expected to join them in the fall. The developer program is looking good too: "We now have approximately 150 early access independent software vendors and application developers in our program who are eager to take advantage of these APIs. We like how this expands the ecosystem around the ioMemory platform and create stickiness within the marketplace."
Flynn really enjoyed talking about one customer: "One of the world's largest media and entertainment companies deployed ION in place of legacy storage infrastructure at a fraction of the cost, and realized a 25x performance improvement in their application. Now the irony is the application they are accelerating is Documentum, owned by the same storage company whose proprietary system they replaced with ION." Take that EMC.
Fusion expects a modest increase in revenue in its next quarter. Full year fiscal 2013 revenue is expected to be 45 per cent to 50 per cent higher than fiscal 2012, up to $538.9 million. ®