Nvidia rides the Kepler wave, proves bean counters wrong
Gamers and bosses, start your credit cards
---
The "Kepler" family of graphics processors are finally lifting Nvidia, which turned in better-than-expected financial results for its second quarter of fiscal 2013 ended in July. And the first Quadro workstation graphics card using the Kepler GPU was launched, setting up a revenue bump in the third quarter.
In the quarter, Nvidia booked $1.04bn in sales, up 12.9 per cent, and a boost in yields for 28nm chips from fab partner Taiwan Semiconductor Manufacturing Corp was a big part of that bump as Kepler-based GPUs for notebooks based on Intel's "Ivy Bridge" processors took off in the quarter now that supplies are not as constrained as they were earlier in the year. Better 28 nanometer yields from TSMC helped boost gross margins at Nvidia by 1.7 points to 51.8 per cent, and operating income nearly doubled to $119m.
In a conference call with Wall Street to go over the numbers, Nvidia co-founder and CEO Jen-Hsun Huang said that the Kepler GPUs had the highest attach rate to Intel notebooks that the company has ever enjoyed and that Ivy Bridge-based notebooks are ramping strongly. And now, Nvidia is starting the rollout of GeForce cards for consumers and gamers and Quadro cards for workstations.
Huang, who started Nvidia because he is one of the 50 million to 100 million gamers in the world, said that the gamer market "is just dying for Kepler" and that the Kepler GPUs would start coming out in desktop graphics cards that ranged in price from $99 and $249, and this is considerably lower in price than the Kepler cards that Nvidia has been able to ship to date to enthusiasts at a street price of around $400.
The good news for both Nvidia and TSMC is that it is finally ramping its 28 nanometer processes. In its statement going over its own second quarter results, TSMC said that 28 nanometer tech accounted for 7 per cent of total wafer revenues, which was on plan, with 40 nanometer tech generating 28 per cent of the revenue pie and 65 nanometer tech drove 26 per cent of sales. Lora Ho, CFO at the wafer baker, said that the plan for Q3 was to double the 28 nanometer output and that this shift would generate 80 per cent of the revenue growth TSMC expects to have in the third quarter ending in September.
The improving yields on 28 nanometer processes, which are used to make the Kepler GPUs, means that Nvidia can ramp up GeForce graphics cards aimed at gamers just as a slew of new games are coming out in the second half of the year. Nvidia said that it estimated that 80 per cent of gamers are currently using graphics cards that are below the specs for these upcoming video games.
All told, Nvidia sold $668.3m in GPUs for notebooks and desktops in the second quarter, up 15.3 per cent from the year ago period, with growth for both types of PCs. That number also includes license revenue from Intel.
On the consumer front, the Tegra 3 ARM-based processors, which feature integrated Nvidia graphics, also help pushed sales up in fiscal Q2. The consumer products group at Nvidia had $179.7m in revenues in the quarter, up 35.5 per cent, and Huang was particularly pleased that Microsoft has chosen a Tegra 3 chip for its Surface slab running Windows 8 for RT and that Google has done the same for its Nexus 7.
Rather than think of these devices as alternatives to Apple's iPad tablets, Huang admonished Wall Street to think of these as adjuncts to existing Windows and Android devices, and he talked about his own personal use of an Android phone and a Nexus tablet to illustrate the point.
"It's the first thing I use in the morning and the last thing I use at night," Huang said about his Nexus 7 slab, adding that "if you have an Android phone, you ought to go out and get yourself an Android tablet because all of your content just shows up."
That said, Huang is not about to toss his PC out the window at the office, where he needs more horsepower and a larger screen to run the company, which he apparently does through spreadsheets like the rest of the world.
On the Quadro and Tesla side of the Nvidia house, revenues were down 7.7 per cent in the quarter, to $196.3m. Intel and its partners are getting through the Xeon E5 server ramp and are beginning to roll out Xeon E5 workstations now that the entire Xeon E5 family of processors is out the door. Both the Quadro and Tesla product lines saw revenue and profit declines in the second quarter, but Huang said both were unique in their categories – Tesla pretty much owns the GPU acceleration market right now, albeit a small market – and added that the Quadro cards had the highest market share that Nvidia has ever enjoyed in the workstation space and the best market position with Kepler-based cards just starting to come out.
"I think the trajectory is good and I think things will work themselves out," Huang said, although Nvidia still expects for TSMC to be supply constrained in the third quarter. Given this, Nvidia is projecting sales of between $1.15bn and $1.25bn, and Huang was not going to speculate on how much money might have been left on the table because of these supply constraints.
The first Quadro workstation graphics card based on the Kepler K10 GPU was also trotted out this week at the SIGGRAPH trade show. The K5000 card has one Kepler K10 GPU, which has 1,536 CUDA cores and which delivers 2.1 teraflops of single-precision floating point math oomph.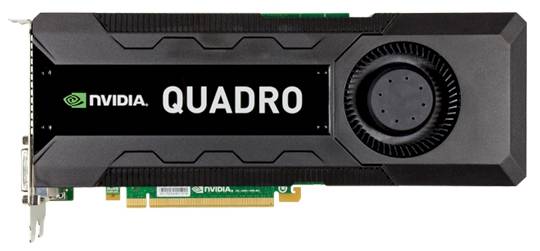 Nvidia's Quadro K5000 workstation graphics card
The Quadro K5000 has a 256-bit memory interface and sports 4GB of GDDR5 graphics memory and 173GB/sec of bandwidth across that memory. This card has an idle power of 18 watts and peaks out at 122 watts when it is working hard. It can drive four displays at up to 3840x2160 resolution and if you want to put four cards in a single machine, you can create a giant 16-display single desktop for your PC and put your friends to shame. The K5000 doesn't come cheap at $2,249.
Nvidia is pitching the K5000 graphics card, which is based on the Kepler1 or GK104 GPU, alongside the Tesla K20 GPU coprocessor, which is based on the Kepler2 or GK110 GPU. The GK104 is aimed at single-precision work and graphics, while the GK110 was made to do double-precision floating point math, and the idea is to create a workstation that can do visualization and computation at the same time by putting a mix of Quadro K5000s and Tesla K20s into a single machine. This architecture is called Maximus by Nvidia, and you had better get some budget to do it, since the Tesla K20 card will run you $3,199 each.
The Quadro K5000 will ship in October and the Tesla K20 ships in December. Supercomputer maker Cray is getting most of the Tesla K20 cards that Nvidia can make before the end of the year. ®