Vodafone and pals can't kick the habit of cheap mobe prices
Networks shake off phone subsidies, shed subscribers
---
Three Spanish operators have been trying to get rid of handset subsidies, which reduce the upfront prices of mobiles provided punters take out not-inexpensive contracts. But according to Strategy Analytics, the telcos' resolve is weakening in the face of falling subscriptions.
Based on retail pricing, which Strategy Analytics gathers weekly for its own customers, the company reckons that Movistar, Vodafone and Yoigo all cut their handset subsidies massively in April this year, resulting in handset prices jumping by more than €100, but three months later the subsidies are mounting again as connections drop off.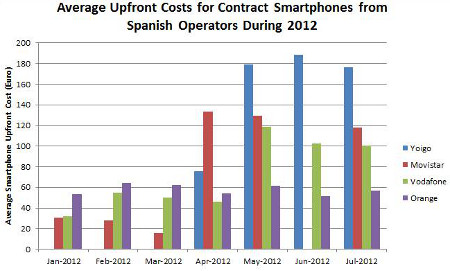 Average upfront costs for mobiles with various operators
Orange was the chief beneficiary it seems, having maintained its subsidy level, as Movistar apparently saw connections drop by 42 per cent over the year and Vodafone dropped by 36 per cent during the three-month experiment.
Operators hate device subsidies, and have tried to get rid of them before, the problem is deciding who goes first. Back in 2004 the Dutch operators had a cunning plan to all dump handset subsidies at the same time, which was brilliant if a tiny bit illegal. That resulted in fines totalling around €30m, and manifestly more careful operators.
Not that subsidies are all bad, they give the operator a measure of control over the hardware. Apple thought the iPhone would sell without subsidies, but quickly realised its mistake and agreed to implement MMS and blocks on tethering in exchange for some operator coin. Google tried something similar with the Nexus, but again bowed to the power of the operators' channel.
European customers are entirely wedded to the modern never-never: our banks might refuse us credit but our network operators will happily hand over a £500 handset for nothing as long as we agree to a ruinous monthly tariff, which is how we like our mobiles and how we intend to keep paying for them. ®