This article is more than 1 year old
Tosh unzips 3.5incher for video, cloud, anyone with a wallet
All those photos and films need to be stored somewhere
Toshiba is rolling a line of 1TB-per-platter drives off the 3.5-inch assembly line Western Digital had to offload to get approval for its Hitachi GST acquisition.
Tosh has now joined Seagate and Western Digital in the 3.5-inch disk drive market.
It has three products. The DT01ACA desktop range comes with 1.5TB, 2TB and 3TB capacities and spins at 7,200rpm. They have a 6Gbit/s SATA interface, a 64MB cache and use the 4KB-per-block advanced storage format.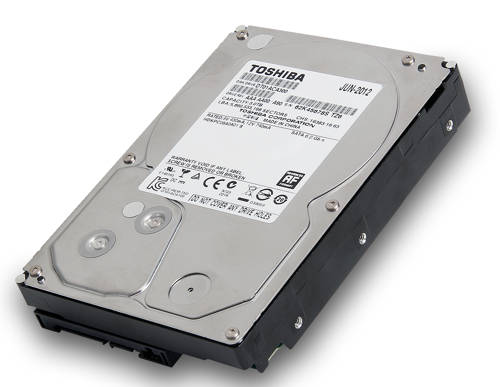 Toshiba's DT01ACA300 drive.
There is a set-top box and digital video recorder version of these, for optimised for video streaming, called the DT01ACAxxxV and comes with the same three capacity levels. A slowed down, literally, version of the tech is in the DT01ABA family: this includes a 5,940rpm DT01ABA300 3TB drive and the DT01ABA150 and 200 drives spinning at 5,700 and offering 1.5 and 2TB capacities respectively. These disks have a smaller 32MB cache and the same 6Gbit/s SATA interface.
Martin Larsson, a VP at Toshiba Electronics Europe, played the flash-drive-with-spinning-disk card in his canned statement: "The new DT01AxA range further cements Toshiba's position as the only vendor to develop and supply a complete storage product line up of SSDs and 2.5-inch and 3.5-inch HDDs."
Of course, it's easy for Tosh to lord it up over 3.5-inch drives: its rivals, such as Seagate and its 15,000rpm 3.5in Cheetah, are steadily being replaced by flash memory and 2.5-inch hard drives as users want their data faster than 3.5-inchers can deliver.
Punters' desire to fondle tablets and Intel's slim specifications for its Ultrabook notebooks are increasing overall demand for storage: holding data in a device is so passe when you can upload your stuff to a networked file server or, brace yourself, even a cloud. Big fat 3.5-inch data tubs are best-positioned to satisfy this need.
Toshiba hopes to sell its 3.5-inchers alongside its 2.5-inch drives. We may see a line of 3.5-inch Tosh external storage products. Adding a fourth platter could produce a 4TB drive and that is also a possibility. ®