This article is more than 1 year old
Designer punked fanbois with asymmetric screw
Hoax screwed up the news, not the iPhone 5
For a little while, the Apple press fell over itself to analyze the import of a screw that was reportedly going to lock customers and repairers out of the next iPhone forever. The source of the story has now 'fessed up that to the hoax that set the wires a-buzz.
Swedish design house Day4 has posted its account of events here. Deciding to test peoples' gullibility – and the speed with which disinformation could be spread – Lukasz Lindell and his colleagues created an imaginary "asymmetric screw" in a CAD package, grabbed the image, and posted it to Reddit with a fake message saying the pic demonstrated that Apple is "even creating their own screws."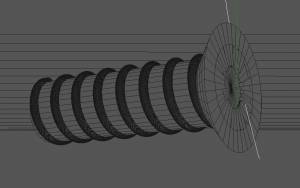 Day4's fake screw design
The result was pick-up by Cult of Mac, and from there it spread like wildfire, Lindell writes.
However, perhaps more interesting than the media pickup – as Lindell notes, the story was treated as a rumour rather than a fact (and Cult of Mac has now noted the hoax without complaint) – was an outcome that falls into "social science" research.
Lindell writes: "With each step further away from the source the perception that this would be true increased. On Reddit, where the original entry was made we see it as a 0 mode, the image was posted, nothing more or less." However, by the time the story was being discussed and commentated on various blogs and social media outlets, "all doubt is gone".
He even goes so far as to apologize to anyone who took the story as truth: "we just want to say sorry to you who feel cheated".
El Reg doesn't feel cheated. As hardware Vulture Tony Smith wrote at the time, "we all know how easy is to knock up authentic-seeming crap, which is what we reckon this is". ®