HP test pilots fly secret four-socket Xeon E5 blade in public
Top of the SPECs – for now
---
Hewlett-Packard has yet to announce a blade server based on Intel's latest Xeon E5-4600 processors for four-socket servers - but that hasn't stopped it bragging about their performance.
In an article on its website, HP let the cat out of the bag that it was working on the ProLiant BL660c Gen8 blade server, which is a full-height, single-width blade server for the BladeSystem c7000 chassis that is the foundation of many of its systems.
The feeds and speeds of the ProLiant BL660c Gen8 server were not divulged by HP top brass. Instead the company's techies have run the SPEC CPU2006 series of integer and floating point benchmark tests on the forthcoming box. They compared it to current Xeon E5-4600 machines from Huawei, Bull, Dell, and Super Micro to show off the performance advantage its future four-socketer will deliver when it starts shipping sometime in the second half of this year. You can view the performance report [PDF]. HP put together for all the numbers, but there is very little detail on the BL660c Gen8 server itself.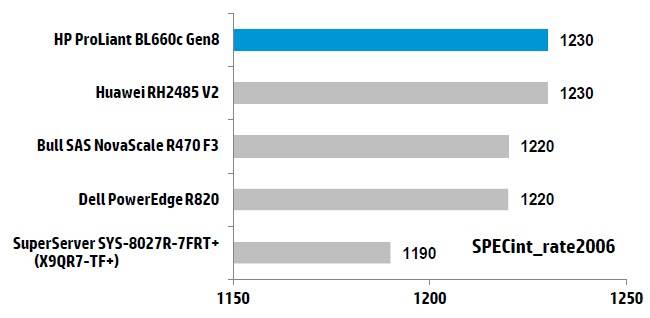 SPECint_rate2006 performance for four-socketers. Note: Super Micro has run a test, which you can see here, that pegs the SuperServer at a SPECint_rate2006 of 1220, not 1190 as the chart above shows. HP made a mistake in this chart.
While HP has met or beat the performance of these rivals in the four-socket racket, what this chart above and the report in general really demonstrate is how difficult it is to differentiate on performance in a world dominated by Intel Xeon processors. The difference from one machine to another is a few percent, and because of the cut-throat economics, the street prices of machines are probably not all that different unless you are in a competitive takeout situation.
Perhaps the most telling bit of information in the performance report put together by HP is that a four-socket machine using eight-core Sandy Bridge-EP Xeon E5-4600 processors running at 2.7GHz offers about 17 to 19.5 per cent better performance than a four-socket box based on the earlier ten-core Westmere-EX Xeon E7-4800 processors running at 2.4GHz when it comes to floating point work.
So if you need a fat memory node, clearly the Xeon E5-4600 node is going to be the better – and almost certainly cheaper – option. If you need an eight-socket server or more than 1.5TB of memory, then an E7-8800 machine is your only option unless you want to go the RISC/Unix or proprietary server route.

HP BL660c versus older E7-4800 iron for floating point
On integer work, the gap is much smaller:
HP BL660c versus older E7-4800 iron for integer work
You will note that HP was very careful not to compare its future E5-4600 blade server against its own current ProLiant G7 machines using the E7-4800 processors.
And the company did not mention the ProLiant DL580 Gen8 rack-mounted server, which has not been announced yet, either, and which is no doubt on its way, too, supporting the Xeon E5-4600 processor. If you scan the SPEC CPU2006 benchmarks, the only Gen8 machines that have been tested other than the BL660c blade server are two-socket rack and blade boxes based on the Xeon E5-2600s. ®