Apple granted patent for in-cell touchscreen display tech
IP win cements iPhone 5 screen 'leaks'
---
Apple has been granted a US patent detailing in-cell LCD touchscreen tech of the kind already said to be implemented in the iPhone 5 to make it slimmer.
The patent covers "touchscreens that integrate the touch-sensing elements with the display circuitry" and describes several ways this may be achieved and a number of variations on the theme which "can include both conventional and in-plane-switching (IPS) LCDs".
Traditionally, touchscreen sensors are separate from the display unit placed beneath them. The two are tightly bonded together, but by integrating sensor tech into each pixels cuts out support layers in present in each device but which are common to both. There's also no need for the bonding cement, which needs to be of a very high optical grade.
"This can permit some layers to be eliminated, which can reduce cost and thickness of the touch screen LCD, as well as simplify manufacturing," says Apple's patent.
And just in case someone misunderstands the role Apple has in mind for the technology, the patent includes a description of a "mobile telephone incorporating an integrated liquid crystal display touch screen".
"In another embodiment, an electronic device incorporating an integrated LCD touchscreen according to the embodiments described above is provided. The electronic device can take the form of a desktop computer, a tablet computer and a notebook computer. The electronic device can also take the form of a handheld computer, a personal digital assistant, a media player, and a mobile telephone. In some embodiments, a device may include one or more of the foregoing, eg. a mobile telephone and media player."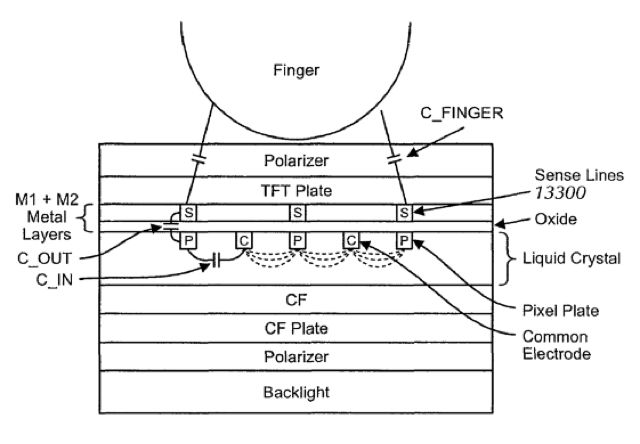 Standing on the shoulders of giants, Apple's boffins cite dozens and dozens of previous display, device and touchscreen patents, both US and international within their own.
The Apple patent, number 8243027, derives from separate patent applications made in June 2007 and April 2011, the result of new elements being added over time to the core filing.
Back in July, what was believed to be a quasi-official leak said the next iPhone will be thinner than the current, 4S model specifically because of the use of new touchscreen technology, though as we noted Apple will need a slimmer battery too if it's to make the iPhone 5 appreciably thinner than the 4S.
Earlier this month, Sharp president Takashi Okuda said his company will begin shipping new iPhone screens to Apple this month. ®