BeBook outs Kindle-beating e-book reader
Thinner, cheaper, more capacious
---
Does half a millimetre matter? E-book reader maker BeBook believes it does. It's relying on that tiny, effectively unnoticeable difference to claim its new 8mm-thick Pure reader is the thinnest of its kind. Its nearest rival is the 8.5mm-thick Amazon Kindle 3, now called the Kindle Keyboard.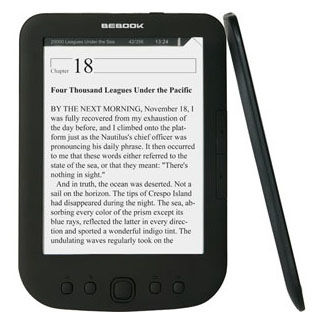 Apart from its waist measurement, the Pure does have some other qualities that may put it ahead of the Amazon offering. First, it's cheaper: £69, £20 less than the £89 Kindle 4, which is 8.7mm thick, by the way. Second it has 4GB of storage - the Kindle 4 has 2GB - and a Micro SD slot for more.
Finally, the Pure will work with DRM-protected e-books from any supplier who opts for Adobe's crypto tech, rather than Amazon and Amazon only.
BeBook is releasing the Pure in the UK "in the next few weeks". ®