This article is more than 1 year old
'$199' Surface tablets: So crazy it might work, or just crazy?
New sketchy Microsoft rumour riles PC makers
If the latest Redmond rumors are to be believed, Microsoft's ARM-based Surface tablet models could arrive priced as low as $199, positioning them as heavyweights in the burgeoning low-cost tablet category.
Engadget reports that the $199 price point was unveiled at the recent TechReady 15 conference, an internal technical event for Microsoft employees, during a session that gave details of the Surface launch.
The $199 retail price is only said to apply to the ARM-based Windows RT version of the device, which will ship on October 26, the same day as Windows 8. Surface devices running full Windows 8 on Intel won't arrive until 2013.
If the rumor is true, that would make the devices significantly less expensive for consumers than earlier estimates suggested. As of June, analysts were expecting Surface devices running Windows RT to retail for $599, while the x86-based Windows 8 models were expected to go for $799 or more.
It would also mean that Microsoft is not merely willing to step on the toes of its OEM partners, as some have complained, but it's actually planning to charge around the tablet market like a bull in a china shop. Publicly, however, the company's chief executive, Steve Ballmer, has tried to play down the potential damage Surface may do to PC partners.
Earlier this month, Acer CEO JT Wang urged Microsoft to "think twice" before moving forward with its Surface strategy, saying, "It will create a huge negative impact for the ecosystem and other brands may take a negative reaction."
Curiously enough, Wang specifically mentioned the $199 price point in comments to DigiTimes, saying that compared to a $499-599 sale price, launching the Surface line at $199 would have a "rather significant" negative impact on other vendors' product lines.
Other OEMs were more sanguine about the Surface launch, with Fujitsu CTO Joseph Reger telling El Reg, "Two things can happen. It's successful, and grabs market share and the market is growing. If it's not successful, that brings clarity. Then we know the tablet space is a fight between Android and iOS."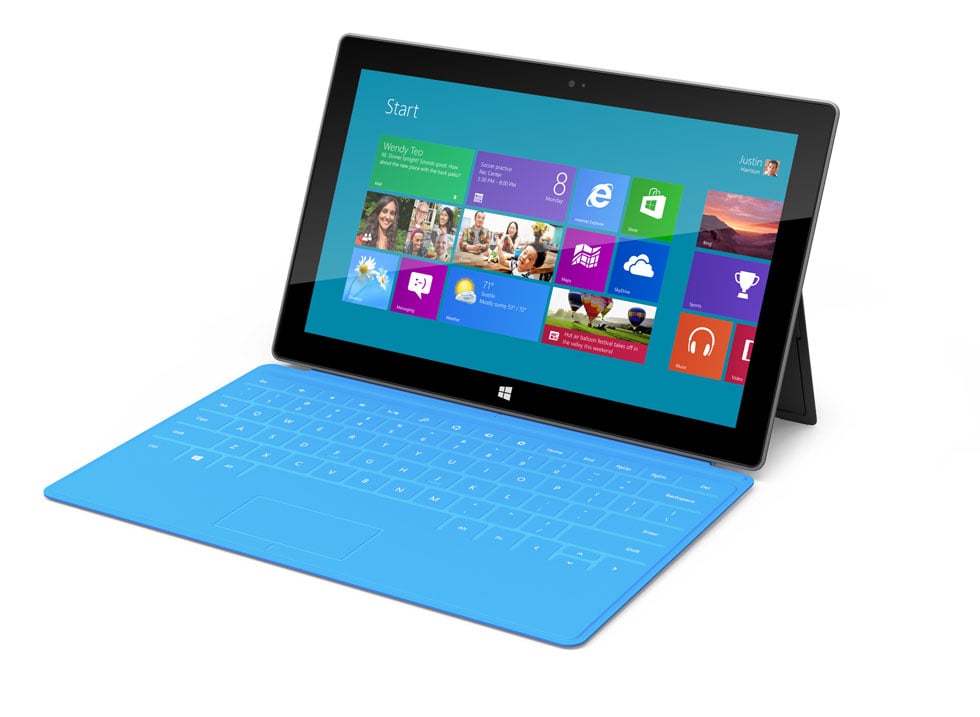 "Oh, did I impact your product line? Terribly sorry."
For now, that fight looks to be heating up into a scrum, with multiple vendors competing aggressively on price. Google's well-received Nexus 7 Android tablet has sold briskly starting at $199, and Barnes & Noble this week cut the prices of its Nook Color and Nook Tablet fondleslabs to match.
With Apple widely rumored to be readying a 7-inch iPad in response, Microsoft's Christmas-timed Surface launch could be one of the most important product releases in the company's history.
According to Redmond's recent SEC filings, Microsoft is committed to launching Surface as "a series of devices" that it says will be of strategic importance to the Windows ecosystem.
"Establishing significant scale in the marketplace is necessary to achieve and maintain competitive margins," the company states. "The strategic importance of a vibrant ecosystem increases as we launch the Windows 8 operating system, Surface devices, and associated cloud-based services."
As such, it may be that Microsoft has decided that blasting into the tablet market with rock-bottom prices is its best hope of gaining the market share it craves, given the fierce and growing competition.
But...
And yet, your Reg hack must admit he has a hard time believing this particular rumor, for a number of reasons.
Although market watchers estimate that Google just barely manages to eke out a profit on the $199 Nexus 7, Microsoft's hardware is almost certainly more expensive to manufacture.
Just for starters, while the Nexus 7 has a 7-inch touchscreen, the Surface will sport 10.6-inch glass, and although Microsoft has not disclosed its display resolution, it is rumored to be higher than that of the Nexus 7. The LCD screen always accounts for a considerable portion of the cost of any mobile device.
What's more, Surface will ship with a cover that includes a built-in keyboard and trackpad, plus a stylus for ink input, both of which will drive up manufacturing costs even further.
Then there's the matter of the software bundle. Every Surface tablet will include not only a Windows RT license, but also a Preview edition of Office 2013 RT Home and Student, which Microsoft says will be upgradable to the full edition in 2013.
So far, Microsoft has neglected to mention whether it is calling the version of Office that will ship with Surface a Preview because it will be incomplete at launch time, or because it will be a time-limited trial version. Also unknown is whether it will charge a fee for the upgrade.
A fee seems likely if the $199 price tag is correct, because it would help to win back some revenue for a device that Microsoft would almost certainly be selling at a significant loss.
Redmond is also hoping to bring in some cash from app sales at the newly launched Windows and Office app stores, but whether the mobile app craze lightning will strike twice for Windows remains to be seen.
More importantly, if small-potatoes software sales like these are Microsoft's main strategy for recouping its losses on the Surface hardware, it's hard to see how launching the line at $199 is anything but an incredibly risky gamble, alienating some of its most important OEM partners. ®