SurfTheChannel Brit movie pirate gets 4 YEARS' PORRIDGE
Landmark fraud prosecution
The mastermind behind popular pirate site SurfTheChannel.com has been jailed for four years. A jury found Anton Vickerman guilty in June, but sentencing only took place today at Newcastle Crown Court.
Vickerman, of Gateshead, earned at least £35,000 a month from the site, which actively curated links to infringing material. The site was among the 500 most popular destinations on the net.
Prosecutors are proclaiming the case as a landmark. It's certainly significant, and unusual, for a few reasons. The foremost of which is that it closes down loopholes in criminal copyright infringement law - at least in the UK. And it's the first successful prosecution of a pirate site under business fraud legislation.
After hearing the evidence, the jury had to decided whether the defendant was honest or dishonest: had he acted in good faith? It's a question that invited them to discern the defendant's true intentions, by examining (for example) whether he was actively curating the material presented on his website.
Copyright infringement cases have historically been bogged down in complex issues of who exactly is liable, presenting defendants with an opportunity to escape through loopholes. Other defendants have attempted to argue that it's beyond Blighty's jurisdiction because the servers are located outside the UK.
The Geordie jury wasn't impressed - and Vickerman was found guilty of conspiracy to defraud by copyright.
Vickerman claims he's the victim of a miscarriage of justice. He has released an archive referring to an earlier unsuccessful prosecution, and a bizarre complaint to the Office of Fair Trading that claimed SurfTheChannel was a legitimate operation and the victim of a conspiracy. OFT rejected the complaint.
You may recall Operation Ark Royal, an earlier and unsuccessful attempt to prosecute a pirate site under the same strategy. The case against the Oink website was rejected by a jury, however. What made the difference?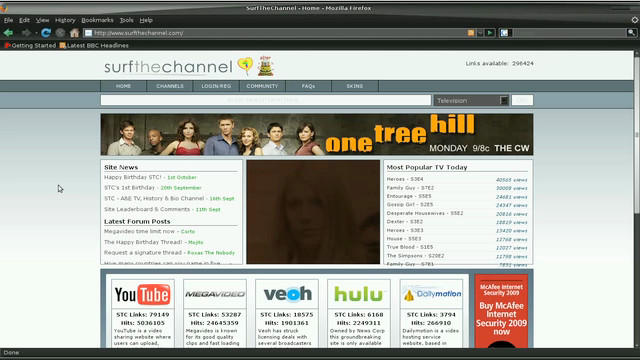 SurfTheChannel in action
The Newsbinz2 case in 2010 saw internet service providers lose the "mere conduit" loophole for turning a blind eye to blatant piracy, and the judge made clear that this entirely was consistent with EU law. Safe harbour is designed to protect an operator from harassment and huge liabilities - evidently an unfairness that would hinder legitimate e-commerce. While Oink was a private club, Vickerman's SurfTheChannel was a globally popular destination. Vickerman lost the safe harbour defence by actively curating the infringing material.
As Kieron Sharp, director of the Federation Against Copyright Theft which brought the prosecution, explains: "This was not a passive search engine. Surfthechannel was created specifically to make money from criminal activity and it became the biggest site of its kind on the internet within two years."
In a statement issued after sentencing today, Lord Puttnam, a British film producer, said: "This case can leave no one in any doubt that internet piracy is controlled by criminals whose profits threaten the ongoing reinvestment in our creative industries."
Rights' holders will still need to mount a private prosecution, which is expensive, but they hope the stiff sentence deters other major pirate operations in the UK. ®