High tech toilets receive big prizes from Bill Gates
Futuristic facilities meet his challenge
---
On Tuesday, Bill Gates devoted much of his day to the toilet.
The philanthropist and former Microsoft CEO was on hand at the Bill & Melinda Gates Foundation's all-day Reinvent the Toilet Fair in Seattle to announce the winners of a year-long challenge to come up with new alternatives to the classic flush toilet, which Gates says is outdated and unworkable.
"The flush toilets we use in the wealthy world are irrelevant, impractical and impossible for 40 percent of the global population," he writes in a blog post, "because they often don't have access to water, and sewers, electricity, and sewage treatment systems."
Gates says that leaves 2.5 billion people without access to safe sanitation, most of whom use pit latrines or simply defecate out in the open. The result, he says, is that people in the developing world fall prey to diseases, such as cholera, that are virtually unknown in rich nations.
"Food and water tainted with fecal matter causes diarrheal diseases that kill 1.5 million children every year – more than the annual deaths from AIDS and malaria combined," Gates writes.
The goal of the Reinvent the Toilet Challenge, launched a year ago with roughly $3.2m in grants from the Gates Foundation, is to use modern science and engineering to build a high-tech crapper that can bring effective sanitation to even the poorest regions.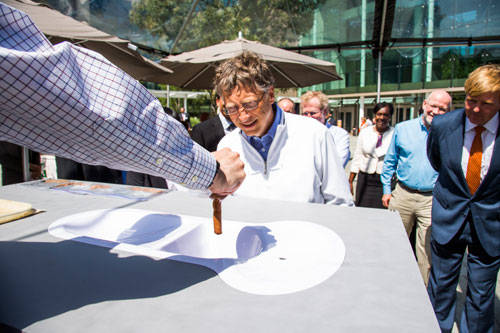 "Once you're done, just use the three seashells." (Source: Bill & Melinda Gates Foundation)
The Challenge has ambitious goals. To be accepted for consideration, toilet designs had to not only be hygienic but fully sustainable. They had to operate without connections to water, electricity, or sewer systems, and where possible they should reclaim water, salt, and other nutrients from the waste. Finally, they had to cost no more than five cents to operate, per user, per day.
Because the Challenge is such a tall order, many of the submitted designs are expensive to build. That may change as manufacturing efficiencies drive costs down, but creating a commode that was affordable for every household never really the plan.
Instead, the Gates Foundation envisions a single toilet that can serve a large community, where local entrepreneurs can acquire the futuristic facilities and start their own sanitation businesses.
Winners showered with gold
The first prize award of $100,000 went to the California Institute of Technology for a solar-powered design that uses an electrochemical reactor to break down human waste into hydrogen gas, which can then be stored in fuel cells.
The second-prize winner, Loughborough University, received $60,000 for a self-contained system that decomposes fecal sludge by heating it at high temperatures without oxygen, producing burnable "biological charcoal," while at the same time recovering water and salts.
Third prize went to the University of Toronto, which earned a $40,000 award for a system that sanitizes feces and urine through a combination of mechanical dehydration, low-temperature heat, sand filtering, and exposure to ultraviolet light.
Gates also awarded a special $40,000 runner-up prize to the Swiss Federal Institute of Aquatic Sciences and the Austrian design firm EOOS "for their outstanding design of a toilet user interface." (Your Reg hack imagines it must be a very Modern UI.)
According to a blog post by the Gates Foundation's Diane Scott, to put the new-fangled toilet designs through their paces, the Foundation actually purchased around 50 gallons of synthetic feces from Maximum Performance, an organization that tests toilets for compliance with various standards.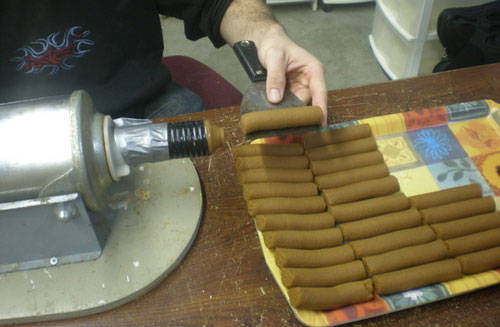 Synthetic, soy-based, and scent-free. We'll spare you a larger image. (Source: Maximum Performance)
Scott explains that making fake poop isn't as simple as it sounds. The samples must not only have the correct size and density to simulate actual human feces, but they must also be made of a material that contains the right amount of biochemical energy, for toilet designs that burn the waste as fuel.
The actual counterfeit crap used was composed of soybean paste extruded into precise 350g segments, as detailed on the Maximum Performance website.
The next step of the Challenge winners will be to turn these very early designs into workable prototypes. The Bill & Melinda Gates Foundation says it expects to begin field testing some of the futuristic fixtures within the next three years.
The Foundation has also announced a second round of the Reinvent the Toilet Challenge, to kick off with a new series of Gates Foundation grants totaling nearly $3.4m.
"We don't have all the answers yet," Gates writes, "but I'm optimistic that we can and will solve this problem. I'm hopeful that this unusual summer fair will be a positive step toward that important goal." ®