Rackspace rolls up OpenStack for private clouds
Just don't call it a distro
---
Amazon doesn't believe in private clouds, only public clouds and when you get down to it, only its own Amazon Web Services. Rackspace Hosting, which has supported other people's apps for a lot longer than AWS, believes in public clouds just as much as Amazon - enough to start the OpenStack cloud controller project and use the code in its own public cloud.
But Rackspace also knows that companies will not - and sometimes cannot – put all of their applications out on a public cloud. That is why the hosting firm has rolled up a software stack called Private Cloud.
This takes the same OpenStack code rolled out two weeks ago on the Rackspace Cloud Servers public cloud and makes it available for companies to deploy internally on their own iron or - if you want an externally hosted private cloud - dedicated iron in its own data centers.
Jim Curry, formerly in charge of the Rackspace OpenStack cloud builders program, is now general manager of private cloud. In his new job he will help ramp up the use of Rackspace's OpenStack implementation in private clouds and sell adjunct services for those clouds.
Private Cloud is, he says, a product designed to be installed quickly and easily, used by customers running real workloads. Private Cloud is also intended to generate revenues indirectly for Rackspace as it hopes to peddle various managed services to support the OpenStack rollup.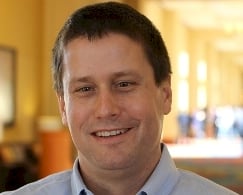 Jim Curry, GM of private clouds at Rackspace
"One of the common objections to OpenStack is that it is difficult to get up and running," explains Curry. "A lot of people don't know about the guts of OpenStack, and they don't want to know. We want to make it so a system admin can grab an ISO, plug in a few IP addresses, and have an OpenStack cloud up and running around 30 minutes."
Distro is no go
Curry does not like the word 'distribution' being used to describe the Private Cloud stack, for a number of reasons.
For starters, it is not being certified against a specific set of hardware and moreover, Rackspace is not guaranteeing that any particular Private Cloud release will be maintained for a long time. Once Rackspace gets its rhythm, the expectation is that Private Cloud will get a new release every three months, and when it goes live that is the end of the line for the prior release.
The Private Cloud stack is the same code base that Rackspace uses internally, and in the case of Private Cloud V1 is based on the "Essex" release of OpenStack, which the hoster is now using in production.
The pattern has not been hammered out yet, but Curry says to expect for Private Cloud to lag when the OpenStack releases go final by between 45 and 60 days, since it takes time for Rackspace to harden the code and put it through the testing paces. Once the code is safe, it will be rolled up into a Private Cloud release and be made available for customers to download and put on their own iron in their own data centers for free.
Escalation
With Private Cloud V1, Rackspace is making the code available now and you can buy normal escalation tech support - the company is already providing this service for a bunch of early customers that hired Rackspace to help build their private clouds.
Escalation support currently costs $2,500 plus $100 for every node under management, but Curry warns that the pricing methodology is to be changed. The goal is to get metered pricing for add-on support services that look less like an annual Linux operating system license for patches and tech support and more like the other managed services that Rackspace sells on a monthly, utility-style basis.
With Private Cloud V2, due in the fourth quarter of this year and based on the "Folsom" release of OpenStack due at the end of September, Rackspace will offer a suite of managed services, including monitoring, capacity planning, patching, and upgrading of private clouds based on the OpenStack rollup put together by Rackspace.
So, for instance, you will be able to pay Rackspace to upgrade from V1 to V2 of the software, or to keep V2 patched with the latest updates. You will not be given access to the patches yourself, as Linux distros offer, but rather you will be given the option of letting Rackspace manage the code for you or to wait for each quarterly release and do the upgrades yourself.

Rackspace's Private Cloud rollup for OpenStack private clouds
Pricing has not been set for these managed services, according to Curry, but the idea is to get them in line with pricing for managed services for hosting and public clouds that Rackspace already sells. And if customers don't want these add-on managed services, Rackspace is fine with that.
"We give you the software, and if you don't think there's value in the managed services, you can cancel them and that's fine," says Curry. "And you get to keep the software."
Because OpenStack is so new and changing so fast, not all features of the Folsom release will make it into the Private Cloud V2 release at the end of this year, he says.
The "Quantum" virtual networking interface for OpenStack, which was largely developed by OpenFlow pioneer Nicira (soon to be part of VMware), is unlikely to be in the V2 release, for instance. Rackspace will want to do extra testing on this code before letting it loose on its own public cloud as well as private clouds.
Even with OpenStack, Rackspace has never believed that it could differentiate itself from Amazon, VMware, or any other cloud fluffer, based on software alone. True to form, the company is all about the fanatical service, for which it acknowledges that it charges a premium compared to other hosters.
"Software is important," concedes Curry. "But anybody who doesn't think the knowledge of how the software is run is equally important is just crazy."
Private Cloud is available for download here. ®