Mining boom sparks IT jobs rush
Jobs fire up for wireless mines on land, massive LANs on offshore rigs
---
Australia's mining and resources boom is driving demand for IT workers, as new, lucrative tenders see vendors and miners alike start work on new projects.
Kordia Solutions Australia snared a flagship coal seam gas tender this week with the AUD$90 million communications services contract from Australia Pacific LNG (APLNG), after a lengthy competitive tender process.
According to Kordia Australia MD Peter Robson, the regional Queensland resources project, one of the largest ever undertaken in Australia, will create an initial 100 new jobs across a raft of roles including engineers, sub-contractors, field staff and technicians.
The contract significantly bolsters the local Kordia operations which has around 900 staff currently.
The tender calls for Kordia to supply communications and controls infrastructure across a 100,000 square km area and service the extensive communications needs for the life of the project.
The end to end telecommunications solution will incorporate network design, engineering, procurement and construction for both fixed and wireless services.
Robson told The Register that mining and resource sector was becoming an "increasingly communications intense environment because of the operational efficiencies that arise from increased use of technology and automation."
Despite recent reports suggesting a wind down in infrastructure spend, Robson said the opportunities in the resources sector and traditional telco land, particularly for wireless, are very strong. "We think that the opportunity will be increasing not decreasing. This is the biggest end to end (resources) win for us we intend to win other opportunities like this." Kordia is currently bidding for several similar tenders in the energy and resources sector which has become a hotly contested vendor pocket.
Robson said that the "Australian energy and natural resources sector is gearing towards increasing the levels of automation and efficiencies in their operations and communications provides and underpinning for that, particularly across wireless technologies."
Vendors with telecommunications-centric expertise would continue to see sharp growth in this area, he forecast.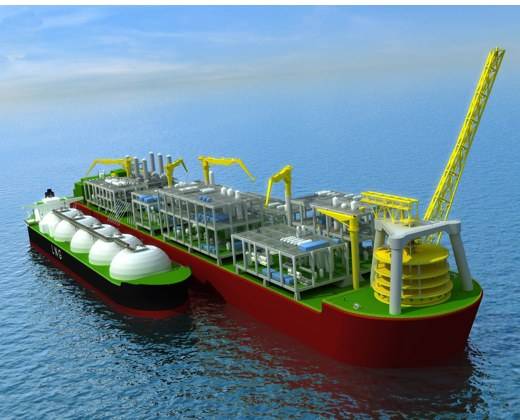 Last month, Alcatel-Lucent and the Technip Samsung Consortium (TSC) got the green light to provide an super charged communications system for Shell's epic Prelude 'floating liquefied natural gas' (FLNG) facility pictured at right, to be based 200 km off Western Australia.
Alcatel Lucent's Vice President Oil & Gas business unit François Loubry told The Register that the mammoth project was an example of how the telco vendor is applying its core skills to address the needs for a number of industries. "The way we approach it here is that there is a boom and we have been supplying products to all these industries for a long time but as a solutions provider we can now offer more innovative and efficient solutions."
The Prelude FLNG measures 488 meters long - from bow to stern - and is 74m wide. It is bigger than four football fields laid end-to-end, including end zones and when fully equipped and loaded, the Prelude FLNG will weigh around 600,000 tonnes while its tanks can hold the equivalent of 175 Olympic-sized swimming pools.
The platform will be constructed at Samsung Heavy Industries in South Korea where Alcatel Lucent begin an 18 month process of installation and complex testing of its gear.
The vendor is providing operations, safety and entertainment systems, trunk and marine radio communications, satellite services, air communications radar recorder (black box), beacons, local and wide area networks, VoIP, closed circuit TV, public address alarm systems, distress and safety systems, GPS, weather monitoring and search and rescue transponders. ®