Ten apps to install on your Nexus 7 first
Take your media tablet beyond Google
---
Product Round-up Once you've prised your Nexus 7 out of the box, watched your free copy of Transformers: Dark of the Moon (surely "binned it immediately" - Ed) and spent a few hours playing Dead Trigger the time is ripe to start thinking about the first third-party apps that will help you really get the most from your shiny new piece of Google tech.
Here then are the ten apps that you really ought to install from the off. If you are wondering why I've not included the likes of Skype or Dropbox, that's because they are just a bit too obvious and self-recommending. I've also avoided any apps that are simply app alternatives to web sites that work just fine in the Nexus 7's Chrome browser.
Aldiko Premium

Between Google's Play Books and Amazon's Kindle apps you may think that's e-book reading covered. But what about all those ePub and PDF books on your hard drive, even the DRM-protected ones legitimately acquired from the likes of Waterstones and WHSmith? I also like something with direct access to Feedbooks, which is my prefered source for out-of-copyright classics.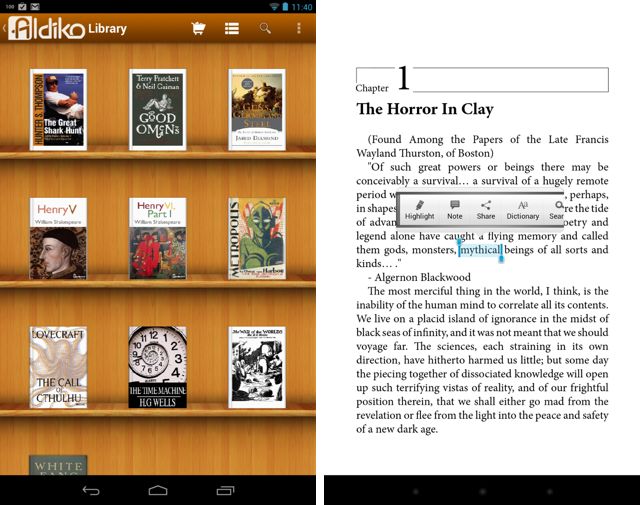 Aldiko Premium is my preferred choice for ePub and PDF books because it's nicely laid out, has a decent selection of fonts, adjustable margins and a near infinite choice of text size. More importantly, unlike some e-reader apps, it never gets tripped up by slightly suspect formatting - and you can apply your own, overriding a book's pre-sets. Add to that well implemented facilities to copy, bookmark, share and look up text and make notes, Aldiko should keep even the most demanding bibliophile happy.

Reg Rating 90%
Price £1.99
Size 22.4MB
Google Play Download
Apex Launcher

One of the most consistent criticisms of the Nexus is that the home screen is too phone-like and won't flip from portrait to landscape. Apex Launcher fixes that by replacing the rather limited Jelly Bean launcher with one that gives you a proper 10in tablet feel, complete with multiple docks, a landscape home page and a much reduced Google search bar. It also shunts the app drawer icon from the dock to the more traditional top righthand corner of the screen.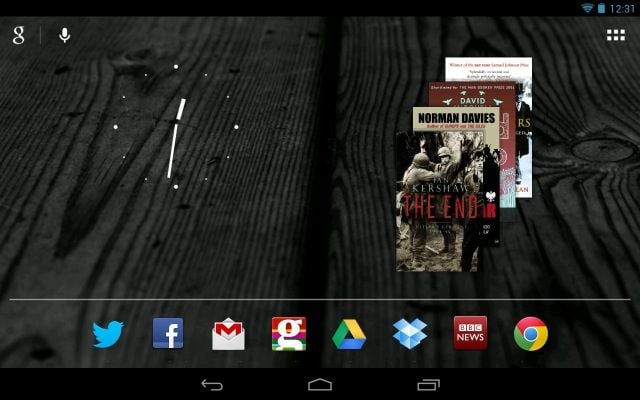 Tap and hold on the screen and a convenient Gingerbread-style menu pops up to add widgets, app and Apex shortcuts directly to your home screen. If you dive into the settings menu and you will discover a truly mind-boggling number of options to customise alongside the more obvious ones like setting the number of home screens to anything between one and nine.
If that's not enough, the £2.49 Pro version adds even more functions and options to fiddle about with.

Reg Rating 90%
Price Free. Pro version: £2.49
Size 4MB
Google Play Download