Hypersonic Waverider scramjet in epic wipeout
London to NYC in 58 minutes pieces
---
The US Air Force's ongoing attempt to develop a hypersonic scramjet has taken another hit, with its X-51A tester breaking up less than a minute into its 15 August test flight.
According to the Air Force, the test flight, planned to last five minutes, ended 31 seconds after it started. A rocket booster had been fired to accelerate the Waverider, but after it separated from the booster 15 seconds later, the aircraft suffered a "faulty control fin", according the statement.
Instead of reaching its hoped-for speed of Mach six, the test craft broke apart over the Pacific Ocean near Point Mugu, northwest of Los Angeles.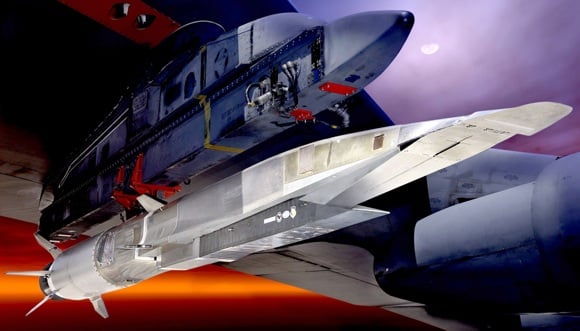 Artists' impressions never show things falling to bits...
"It is unfortunate that a problem with this subsystem caused a termination before we could light the Scramjet engine," said Charlie Brink, X-51A Program Manager for Air Force Research Laboratory in the statement. "All our data showed we had created the right conditions for engine ignition and we were very hopeful to meet our test objectives."
Scramjets are held out as the great white hope for next-generation weaponry – sorry, we mean passenger flights between New York and London in less than an hour. The design theory is that the intake air compression resulting from supersonic flight is sufficient to run the engine without the moving parts needed by conventional jets.
It's the third test flight to end in tears: in the first X-51A test, the scramjet burned for two minutes before suffering heat damage and being deliberately destroyed at Mach 5. In the second, in June 2011, the flame failed and couldn't be restarted. That craft ditched in the ocean in the test range.
With only one test craft remaining, the Air Force Research Laboratory is promising a "rigorous evaluation" of what caused the latest failure, and whether or not to risk burning more expensive hardware. ®