British boffin builds cool maser after argument with wife
Her indoors inspires him upstairs
---
Vid An obscure Japanese research paper, some second-hand equipment on eBay, and a British scientist's argument with his wife have become the catalysts for creating the world's first room-temperature microwave laser. It's also around 100 million times more powerful than current models.
Masers (Microwave Amplification by Stimulated Emission of Radiation) have been around for decades and use stimulated microwaves, as opposed to light in lasers, to produce an output. Masers are rarely used these days, largely for practical reasons, since they require magnetic shielding and cryogenic temperatures to work.
But Mark Oxborrow, a physicist at the UK National Physical Laboratory, came across a decade-old Japanese research paper that suggested the properties of the organic molecule pentacene could be useful in creating masers when stimulated by a laser beam.
With some help from materials scientists Jonathan Breeze and Neil Alford at Imperial College London, he created a crystal by combining the pentacene and another organic compound called p-terphenyl. He then bought an old medical laser from a source in North London to set up the experiment.
Then he choked, and didn't turn the experiment on, saying it all looked too easy. Such choking isn't uncommon – Darwin sat on Origin of Species for nearly 20 years after all. "For about three days, I could have done it, but I didn't have the nerve to switch on that button," Oxborrow tells Nature.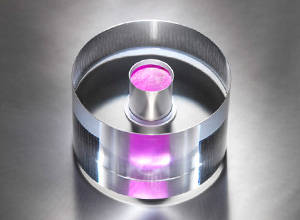 The pink pentacene heart of future masers
In the end it took an argument with his wife to get him motivated. He went down to the laboratory to cool off and decided to switch the experiment on. The results exceeded expectations, with maser emissions around 100 million times stronger than anything achieved before.
"The signal that came out of it was huge," he says, "I swore a lot and walked around the corridor about five times talking to myself."
To cap it all, the maser should work a lot better still with better assembly. The crystal created to power the system was slightly singed in the process, and the team hopes that with better materials they can get stronger outputs still.
The next step is to get the maser to operate continuously, since it will only send out pulses at present, and to try other materials that could also provide cool masing, as well as making such devices smaller and more portable.
"When lasers were invented no one quite knew exactly how they would be used and yet, the technology flourished to the point that lasers have now become ubiquitous in our everyday lives," said Professor Neil Alford, co-author and Head of the Department of Materials at Imperial College London, in a statement.
"We've still got a long way to go before the maser reaches that level, but our breakthrough does mean that this technology can literally come out of the cold and start becoming more useful." ®