Doctor Who Sonic Screwdriver Universal Remote Control review
Knob end?
---
There comes a time in every Doctor Who nerd's life when he or she realises that all the money spent on merchandise and tat was wasted. How many Dalek and Tardis toys do you need sitting on your shelves, demanding to be dusted? Are you really going to read through all the scripts from the 2005 season, complete with RTD's annotations – especially when you have the DVDs too? And no, you are never going to fit into those 1970s Marks & Spencer Tom Baker Y-fronts again.
The problem is, all this stuff is almost entirely useless. You see it in the shop and your fiscal resistance wilts in the face of its shiny cuteness. Even Forbidden Planet's mark-up is no barrier. You know it's a waste of money, but you must have it.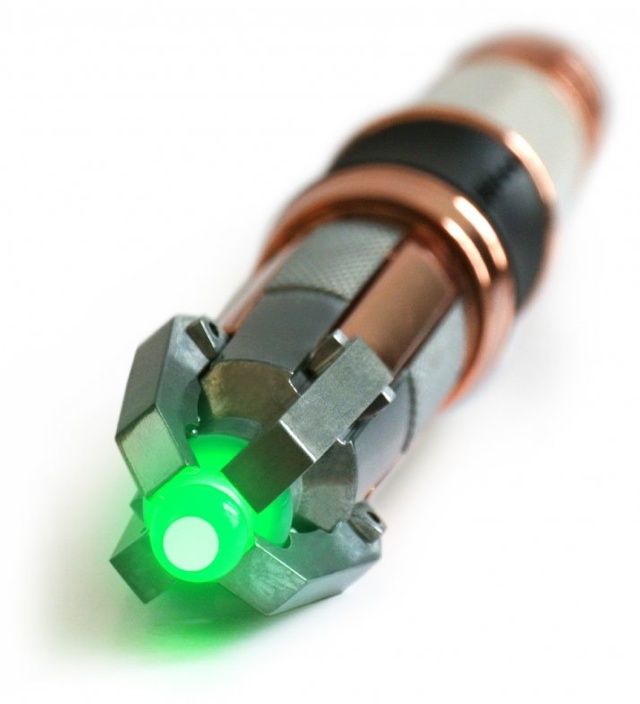 Widdly-weee-widdly-weee-widdly-weee
Back home, there are doubts. A nagging voice – possibly your mother's, from the other side of your bedroom door – hints that your purchase may not have been a rational one. But the tat goes up onto the shelf nonetheless. Just up there, crammed in next to the Denys Fisher cyberman sculpted with a nose, to the left of the Dapol five-sided Tardis console...
Occasionally, though, you find something that seems like it might be useful. The Tardis Tuner from the late 1970s, for example, did at least make for a half-decent transistor radio because that's all it actually was.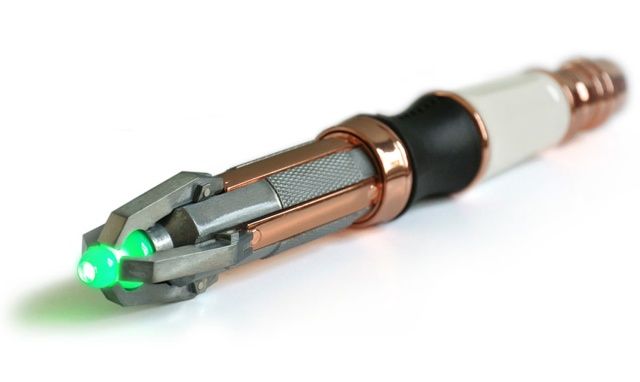 'Yes, my replacement was pretty unpromising too'
In theory, the Wand Company's Sonic Screwdriver Universal Remote Control should fall into the same category.
According to the blurb on the box, the SSURC is "an advanced, gesture-based, infrared remote control... Using simple and intuitive movements you will be able to use the Sonic Screwdriver to control things around the home". Some of these words are coloured red, others orange. These may be the formal hues of the Prydonian Chapter of the Time Lords, but excessive emphasis does not inspire confidence.
The notion is that you'll soon be waving your Sonic Screwdriver around with gay abandon – I use the term specifically; this is Doctor Who fandom we're talking about, after all, and it is a very phallic instrument, dear – turning up the volume on your telly, switching on the Blu-ray player, disabling the iPod dock.

'Not even the Sonic Screwdriver can get me out of this one'
Of course, while the Doctor gets away with a little point and click, and perhaps a wee bit of telepathy, translating your average button-festooned remote into a series of gestures doesn't take you very far, so this gadget's shaft is touch sensitive. Combine upward, downward and side-to-side motions with some not-too-comfortable forward and backward jerks and four touch-sensitive areas and you have the basis to record a fair few of your average RC's functions. Three memory banks takes the range of signals the Sonic Screwdriver can send out to 39.
All well and good, but here's the thing: who on Earth has the time and inclination to set up 39 remote control codes? This is a common failing with many of the cheaper universal remotes out there: you have to program the buggers. It's bad enough when this requires entering dozens of four-digit codes each allowing the RC to call up a given device from a specified vendor from out of its memory banks.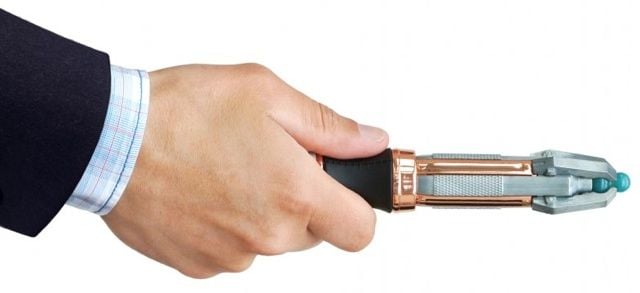 'Er, never trust a man with dirty fingernails'
Here, though, you have to put the Screwdriver into program mode – "while the tip is glowing steadily", ahem – then perform each gesture before pointing your regular RC at the new one to allow the Gallifreyan gadget to read the IR code of the button you're pressing and assign it to the gesture.