Surfing far too tedious or terrifying, say Northern Irish women
Won't someone think of the children? We have.
---
Women in Northern Ireland are the least likely of all UK adults to have surfed the net, according to new stats on web usage in Blighty.
The Office of National Statistics surveyed bods aged 16 and over in a quarterly report, and unsurprisingly found that age, location and gender play a deciding role in people's adoption of the net.
Older folks, the poor and people with disabilities were all less likely to have searched for porn tried the internet, even once.
Overall the number of web users was up 4 per cent in the past three months, meaning that 42.52m or 84 per cent of the adult population has opened an internet browser - at least once.
The 16 per cent of adults, 7.82 million people who had never tried the internet were more likely to be female and more likely to live in Northern Ireland, the survey found.
Only 77 per cent of Northern Irish adults had used the internet compared to 88 per cent in London and South East England.
UK smut gazers men (87 per cent) were more likely to be Internet users than women (82 per cent).
Reports into Northern Ireland's internet adoption by Ofcom over the past few years suggest that the low take-up of broadband was due to cost and lack of interest [2008 report], and that there was a lack of trust generally in the benefits of the net, with nearly a quarter of Northern Irish parents considering the web to be more of a risk than a benefit to their children [2011 report].
Age and disability
Age was the main factor in whether people used the net or not, with those between 16-25 the keenest to clamber online and usage dropping off significantly in the over 55 and over 65 brackets. Only 29 per cent of over 75s - the silver surfers - had ever used the internet.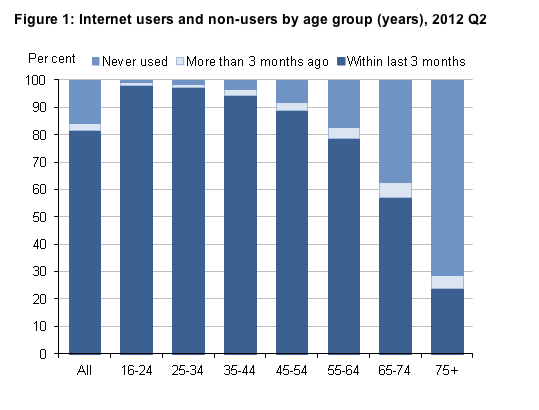 Fascinating. Credit: Office National Statistics
Women in the 16-25 year old bracket used the internet slightly more than men, but otherwise women used it less than men in every other age category, with the gap growing to 13 per cent in the 75 plus bracket.
Low earners were slightly less likely to have used the internet, people with a registered disability were three times less likely to have used the internet than their peers without disabilities. ®