CEO: NetApp revenues falling, but 'we aren't in a clampdown'
Just arranging our operating expenses a little
---
The brakes went on NetApp sales in its latest quarter with no growth and profits more than halved, but it is not seeing a downturn which could lead to potential restructuring.
The company recorded revenues of $1.445bn for its first fiscal 2013 quarter, 1 per cent down annually but a 15 per cent drop from the previous quarter. Profits were $64m compared to $150.7m a year ago and $181m in the prior quarter.
The chart shows the abrupt turnaround in the quarterly numbers. NetApp revenues were in line with what the Wall Street analysts expected and profits above expectations so the Street was happy, it not liking surprises, but what caused the revenue and profits drop?
We turned to the earnings call in which management discusses the results with investment analysts, to see what we could learn.
NetApp CFO Nick Noviello said that revenues went down due to three factors: a traditional seasonal factor in which the final quarter of a year sees higher results than the next quarter, the first one of a fresh financial year; a weak economy; and, thirdly, adverse foreign exchange rates. An earnings-per-share measure showed that NetApp kept its costs under control better than expected.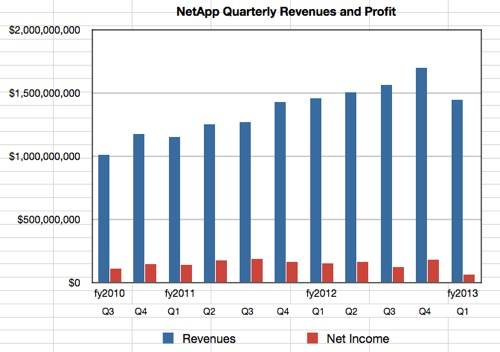 Interestingly, NetApp's OEM partners sold more NetApp product than the previous quarter – whereas NetApp itself sold 18 per cent less of its own products.
CEO Tom Georgens talked of smaller transactions and longer (enterprise) sales cycles, adding that customers were tightening their belts. There was softness in the EMEA geographies – no surprise there – as well as in the US commercial sector. The US public sector was more or less okay, according to the earnings call.
Georgens added during the Q&A afterwards that "[NetApp] aren't in a total clampdown by any means, and certainly we aren't restructuring at this point in time".
The Channel
Newer channel-led FAS2000 products took some sales away from the mid-range FAS3000 arrays. New customer acquisition numbers for the channel were good. Georgens said: "I think the breadth of our channel and the expansion of our business and frankly, the channel partners that Cisco has helped us cultivate, and that relationship have all been very helpful."
He added: "One of the things that we see in the channel is that the more we invest, the more we expand our coverage. There's opportunity out there. And it's a big, deep market... The ability to expand our coverage on a geographical basis outside of the US is still a very, very large opportunity for us as well. We want to do that.
NetApp sold more E-Series (Engenio) arrays than it did a year ago which is encouraging. The converged Cisco server-network-NetApp-storage template FlexPod business grew almost 90 per cent over the year.
Georgens said: "To date, we have almost 1,300 FlexPod customers and are seeing a clear ramp in repeat business. We are seeing strong traction across the board in all geos and verticals. The greatest demand for FlexPod comes from customers wanting to run mixed workloads."
Flash matters
Georgens also talked flash storage, saying that NetApp had Flash Pools inside its arrays and Flash Cache in its controllers: "On the server side, our stated strategy is to partner with server flash hardware vendors and add value through software," he said. "Our recent announcement with Fusion-io is an example of execution against this strategy. You can expect to see more detail from us on this topic of host-based flash shortly."
NetApp appears to be taking a different approach to that of EMC which NetApp describes as having a closed strategy with VFCAche – EMC's own-brand server-side flash cache hardware and software.
Goorgens went further in the Q & A session: "So our view is that flash on the host, that's going to fit this permanent storage type of model where it's going to look like disk drives, we want to do what it's going to take to bring that storage into our data management capability. So the opportunity for us is really around the software. So if we have to make and sell hardware in order to participate in that software opportunity, we will. And that's really what the Fusion-io relationship is about."
The implication here is that NetApp could make and sell server-side flash hardware.
He described NetApp's flash-disk strategy, with flash, wherever it is, being a cache: "If you can get your working set actively stored in flash, if you can do that, then you don't need enterprise drives, you don't need storage sharing, you don't need any of that stuff. You just go to [S]ATA drives on the back end. And then simply put, when you want the data, it needs to be fast, and when you don't want the data, it needs to be cheap."
Competing with legacy server players
Overall the company is betting that its focus on ONTAP NAS and SAN clustering, and claim that it is "the only vendor that can unify structured and unstructured data at scale ... will preserve our leadership."
NetApp believes in its best-of-breed storage and in partnering with best-of-breed vendors like Cisco and, El Reg thinks, Fusion-io, to nullify the converged, integrated IT stack messages from the mainstream server/system vendors such as Dell, HP, IBM and Oracle.
Georgens said: "If we could go with another like-minded best-of-breed player like Cisco and integrate our technologies very, very tightly, then we can go in and basically nullify the integrations story and really talk about best-of-breed and the value that it brings to business."
NetApp's cautious outlook for the next quarter is for a $1.5bn to $1.6bn revenue range; meaning 3 per cent annual growth and 7 per cent sequential growth at the mid-point. It is not envisaging a downturn in its business that would necessitate a restructuring, but it is re-prioritising its business to generate near-term growth. ®