Tegile adds dash of disk to flash, hopes to taste cash
Cooks up hybrid arrays to undercut all-flash market
Tegile has tossed out two more flash-boosted storage arrays into the market, chasing the hybrid dream that flash and disk is better than flash alone because you get cheap capacity and solid state speed.
Its first hybrid array product, the Zebi HA2100 was announced in June, with DRAM and flash used as a 2-tier cache atop a nearline SAS disk drive storage capacity layer. The MASS software included deduplication and compression with metadata stored in flash to speed processing. The two additions add capacity and performance.
Other hybrid array vendors include Nimble Storage, Nutanix and Tintri – the latter having a VMware focus.
Speeds and feeds
The speeds and feeds are summarised in a table below.
Like the HA 2100, both new boxes have four Xeon E5620s in their controllers. The HA 2100 has 48GB or 96GB of DRAM and 600GB or 1.2TB of flash, in the form of WD Hitachi GST eMLC SSDs.
The HA 2400 has 96GB plus 2TB of SSD. It has 12 to 66TB of disk, less than the HA 2100's 22TB to 106TB, but puts out 125,000 IOPS in a 60-40 read-write mix using 4K blocks, compared to the HA 2100's maximum 75,000 IOPS.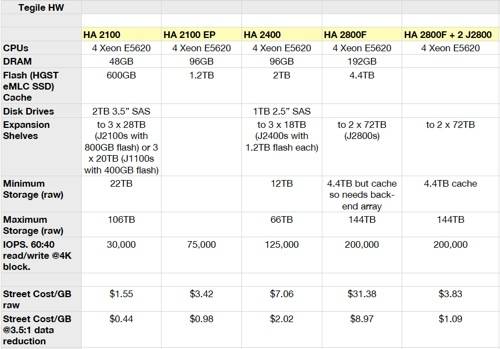 We suggested these numbers were lowish, and a spokesperson said; "Competitors in our segment that specify between 650,000 and 1,000,000 IOPS use a 512 byte block size at up to 100 per cent reads. This is a ridiculously small block size that no mainstream applications use. We benchmark our systems with a realistic 4K block size with a 60 per cent read:40 per cent write ratio. This costs us a bit of buzz factor, but a lot of credibility with customers running a POC or bake-off."
The larger HA 2800 comes as an all-flash system with 4.4TB of SSD and a 200,000 IOPS capability, but it needs a back-end storage array to feed it data. Tegile adds the option of using two 72TB expansion shelves for this, providing 144TB of raw capacity.
The street cost per GB of raw capacity and the same cost at a 3.5X data reduction ration is said to be:
HA 2100 + 106TB - $1.55/GB and $0.44/GB
HA 2400 + 66TB - $7.06/GB and $2.02/GB
HA 2800 + 144TB - $3.83/GB and $1.09/GB
Violin Memory's raw cost/GB is in the $6 - $9/GB area.
Tegile's VP for marketing, Rob Commins, said: "All-flash arrays sell in the market at $5-10/GB, while Tegile's MASS based arrays sell well below $2/GB. We raise the performance of near-line SAS hard disk drives to rival extremely expensive high-RPM SAS or Fibre Channel drives, thus enabling the acceleration of every storage function within the array."
He differentiated Tegile from other hybrid flash-disk drive array product vendors with this statement: "Other hybrid vendors do not offer the multi-protocol connectivity packaged with both inline compression and de-dupe. They typically run compression only or use their data reduction processes as a post-write process; which is far less efficient."
The Zebi array software has had a FlashVols pinning function added, with which storage volumes can be permanently stored in flash instead of having it used to cache their hottest data. This boosts data access performance to those volumes more, and turns the flash cache into a storage tier for them.
Tegile reckons its new arrays are a good fit to VDI use cases where the data reduction ratios can be significant.
Both the Zebi HA2400 and HA2800 are currently shipping and are priced at $168,389 and $235,152 respectively. ®