Brocade CEO Michael Klayko quits - just as his biz perks up
Quarterly results overshadowed by leader about to leg it
---
Brocade has turned in an adequately solid quarter, with better-than-expected sales and profit after a string of weak and flat quarters, so why would CEO Michael Klayko choose to resign now?
The company makes and sells storage area networking switches and director boxes running Fibre Channel, and has a line of Ethernet switches and allied products gained through acquiring Foundry Networks in December 2008 – an age ago considering how fast things develop in the frenetic storage and networking world.
Klayko has led Brocade for more than seven years and told the board it was time for him to go. The canned statement said: "Decisions like these are never easy, but I believe it is the right time. The Company is in a great position financially, and our product pipeline will continue to strengthen and clearly separate Brocade from other networking providers. Until a successor is identified, I remain focused on my role as CEO and on continuing to execute our strategy."
The board's said: "We want to thank Mike for his more than seven years of service as CEO. He has led us through two major acquisitions and has positioned us as a technology leader and world-class provider of networking solutions. We wish him the best and appreciate his continued service to Brocade as the Company works to identify the right leader to assume his role."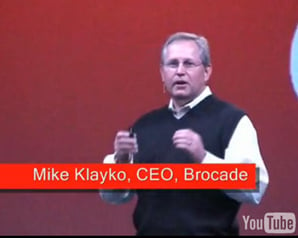 Brocade CEO Mike Klayko
Next moves
There is no mention of Klayko continuing as a board member once his CEO-ship ceases. Stifel Nicolaus analyst Aaron Rakers said Klayko will step down as a board director. But there doesn't appear to be any rupture, any sign that the board was displeased with the way Klayko was leading Brocade.
Brocade's board has set up a search committee which will appoint a exec recruiting firm to find the best candidate. It doesn't look like there are any internal candidates; score nought out of ten for succession planning,
This news somewhat overshadowed the results for the third fiscal 2012 quarter, results which were solid but didn't show any signs of Brocade breaking out of the revenue doldrums it's been in for the last couple of years. It grew, a bit, and profits rose, two things which are good and solid but not - we're talking half-billion-plus quarterly revenues here so don't think this is dismissive by any means - exceptional.
The company pulled in $555.3m in the quarter, 10.4 per cent up on a year ago, which was a bit of a low point, and 2.3 per cent higher than the second quarter. Profits were $43m, way better than the paltry $2m recorded a year ago, and 10.3 per cent more than second quarter profits; good solid stuff. But Brocade had higher revenues, $51m, and profits, $59m, in the first quarter, hence our unexceptional comment. The chart shows the overall revenue and profits picture over the past few quarters.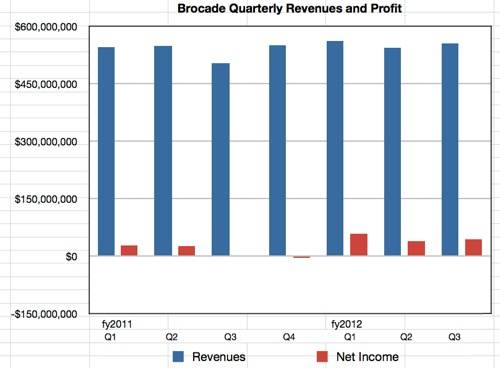 Brocade's Ethernet products did better than its storage products:
Storage business revenue, including products and services, was $377.6 million, up 13 per cent year-over-year and down 6 per cent sequentially.
Storage product revenue increased 17 per cent year-over-year and decreased 6 per cent sequentially, in a seasonally soft quarter for the company.
Ethernet business revenue, including products and services, was $177.8 million, up 5 per cent year-over-year and up 24 per cent quarter-over-quarter.
The Ethernet business growth was driven by an increase in Federal sales, which were up 40 per cent year-over-year and 108 per cent quarter-over-quarter.
Enterprise business revenue was up 2 per cent year-over-year and up 21 per cent quarter-over-quarter as the Brocade ICX products continue to ramp.
Service provider business revenue was up slightly quarter-over-quarter and down 5 per cent year-over-year.
An incoming chief exec will face Brocade's long-standing problem; how to break out of Cisco's shadow, and another problem concerning the convergence of IT stacks in virtualised data centres with consolidated server-storage-network systems, leaving stand-alone vendors like Brocade out in the cold.
Should it seek closer alliances with a server systems vendor lacking networking capability; look for consolidation among the non-Cisco networking players, or look for a growth ride on new technology such as software-defined networking or super low latency switching like Arista's technology?
Still trying to flog itself off?
Brocade has reportedly been trying to sell itself to a server vendor since 2009. The server vendor acquisition play might well be closed off. HP has its ProCurve networking operation, and Dell has bought Force 10. IBM seems to have been a potential Brocade buyer but refused the bait. There doesn't appear to be anyone else in that camp other than arch-rival Cisco or – a long shot indeed – Lenovo.
Server-system vendor alliances look to be a mandatory choice but this is a high-tech industry and growth will come from high-tech. It has to be identified, invented or bought, and a CEO needs to be there driving that.
Brocade is now led by a soon-to-be-ex CEO whose mind will become increasingly occupied by his future after Brocade, filled with... golf and cruiseships? A few directorships? A term as CEO-in-residence someplace? The last doesn't sound likely. Who knows what a rich, energetic and seasoned storage and networking biz CEO will do next?
The next quarter should see revenues of between $555m and $575m; pretty good. Whomever comes in next to lead Brocade is not going to find a sick puppy. ®