This article is more than 1 year old
Fujifilm X-Pro1 16Mp compact system camera review
Visual virtuoso
For Fujifilm, the fixed-lens retro-styled FinePix X100 camera turned out to be a huge and rather unexpected success. It was only a matter of time to see the company to bank on its popularity and release an interchangeable lens system loosely based on this model. Yet this CSC is no rehash, as it features a new 16Mp sensor design that puts it in a class of its own.
Retro styling, state-of-the-art imaging: Fujifilm's FinePix X-Pro1
The X-Pro1 retains the old school looks and rangefinder features of the X100 albeit in a rather bigger body. Yet despite the die-cast aluminium alloy casing, it weighs only 450g and feels surprisingly light in the hand. The general handling of this camera is great, with the rubberised texture adding safety to the comfortable, if not deep grip.
On the outside the changes from the X100 are not too striking. The front and the top plate of the two cameras are virtually identical, with the exception of a focus selector added to the front of the pro version and the viewfinder mode switch being downward oriented in the X-Pro1. The other difference worth mentioning is that the exposure compensation dial is now recessed, making it more difficult to move accidentally.

Dials aplenty for fuss-free set-ups
There are instead more considerable changes to the rear design. A straightforward four-way controller with large buttons now replaces the flimsy looking jog dial of the X100 whilst the size, feel and position of the other control buttons have also been altered for a neater and more ergonomic operation. The Raw button has completely vanished whereas a Quick Menu button has made a welcome appearance.
The overall operation and logic of the camera stays the same maintaining the either loved or loathed analogue control philosophy of the X100. The X-Pro1 has no mode dial as such. The only mode options available are Bulb, Time and Auto added to the shutter speed dial. The Auto mode works in a wonderfully simple way in conjunction with the lens.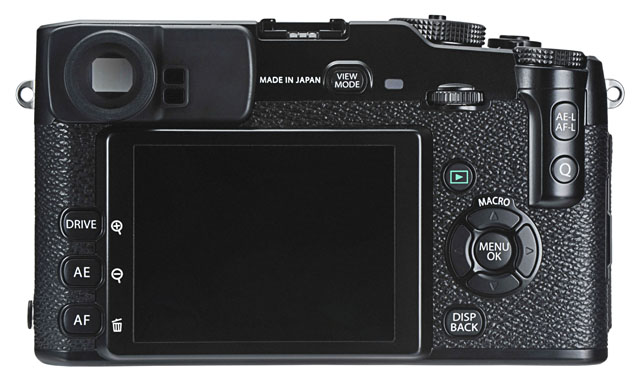 The 1.33m-dot 3in display takes some beating
Since the aperture in the X-Pro1 system is set on the lens and not the camera, the aperture lens rings all have an A setting. If you want the camera to work in full auto mode all you have to do is set A on both the shutter speed dial and the aperture ring on the lens. However, if you want to work in either aperture or shutter priority mode you will simply set the fixed setting to A and select the variable one on the lens or the camera according to what priority you need.