NASA picks the target for Curiosity's first road trip
Rover has to shoot itself first however
---
Pics NASA has pronounced the Curiosity rover ready to get roving and has picked an interesting venue for its first roll across the Martian surface, but the probe has to shoot itself before it can go anywhere.
At a press conference on Friday, NASA said that Curiosity will move towards a spot dubbed Glenelg, which is located at the confluence of three specific types of Martian geology: the smooth surface Curiosity originally landed on, a pockmarked section of the surface that could be an older section of Mars, and a bright area of rock that appears to be bedrock suitable for drilling into.
"We're about ready to load our new destination into our GPS and head out onto the open road," said Curiosity Principal Investigator John Grotzinger. "Our challenge is there is no GPS on Mars, so we have a roomful of rover-driver engineers providing our turn-by-turn navigation for us."
Over the next few days NASA will perform its final motor tests, shifting the rover about a meter forwards and then in reverse, before setting out towards Glenelg. If everything checks out then Curiosity will begin the 400 meter roadtrip to the site, moving at its top speed of around 1.5 inches a second, which translates into 0.06mph.
Once it's reached its new destination, NASA will begin to use the rover's instruments to break into the Martian crust and look for signs of organic compounds and materials that could give a clue as to whether Mars had, or possibly still even has, basic forms of life. After it has finished there, the rover will begin the much longer trek to the base of Mt. Sharp.
Incidentally, the team picked the name Glenelg because it's a palindrome, since the rover will head out to the spot, drill, and then return to it later. It's also the name of a rock formation in Canada, as well as a small village in the highlands of Scotland.
But before Curiosity goes anywhere, NASA is getting the rover to shoot itself. Its Chemistry and Camera instrument, ChemCam, consists of a laser and telescope that will be used to zap Martian rocks and break them down for analysis. To calibrate the laser's aiming and response systems, the rover has to shoot a test plate on its own body, consisting of ten targets of different types of material.
Once that task has been successfully completed the team has picked their first target for study, a small innocuous rock dubbed N165.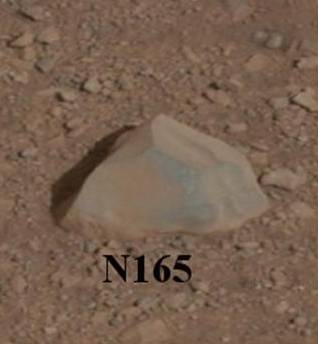 "No, Mr. Rock, I expect you to die!"
"Rock N165 looks like your typical Mars rock, about three inches wide. It's about 10 feet away," said Roger Wiens, principal investigator of the ChemCam instrument from the Los Alamos National Laboratory in New Mexico. "We are going to hit it with 14 millijoules of energy 30 times in 10 seconds. It is not only going to be an excellent test of our system, it should be pretty cool too." ®