Fresh from the ongoing success of the Curiosity rover, NASA's Jet Propulsion Laboratory has awarded funding for its next Mars mission, InSight, which will drill down under the Martian surface to try and understand its geology.
InSight (Interior Exploration using Seismic Investigations, Geodesy and Heat Transport) will be a fixed probe, rather than a rover, and will carry JPL instruments as well as tools from the French and German space agencies. At $425m it's a snip compared to the Curiosity price tag, and was developed as part of NASA's low-cost Discovery Program.
"Our Discovery Program enables scientists to use innovative approaches to answering fundamental questions about our solar system in the lowest cost mission category," said John Grunsfeld, associate administrator for the Science Mission Directorate at NASA Headquarters in a statement.
"InSight will get to the 'core' of the nature of the interior and structure of Mars, well below the observations we've been able to make from orbit or the surface."
InSight's mission will see the probe alight near the Martian equator using the same rocket-powered landing pioneered by the Phoenix Mars probe. Once in position, the German-made Heat Flow and Physical Properties Package (HP3) will drill about 16 feet into the Martian soil, measure the heat generated at Mars' core, and gather data on the planet's thermal signature.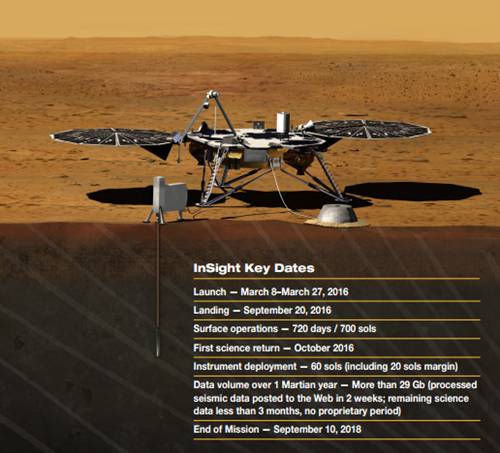 InSight will drill deeper into Mars than any previous probe, even the ones that hit at high speed.
At the same time, the Seismic Experiment for Interior Structure (SEIS), built by the French space agency, will take precise seismic measurements to pick up any activity in the Martian crust. JPL will contribute the Rotation and Interior Structure Experiment (RISE) monitor, which will measure Mars' orbital attitude, as well as a robotic arm to deploy instruments, plus a pair of monochrome cameras to guide Earth-bound controllers and take a look around the landing site.
"The exploration of Mars is a top priority for NASA, and the selection of InSight ensures we will continue to unlock the mysteries of the Red Planet and lay the groundwork for a future human mission there," NASA Administrator Charles Bolden said. "The recent successful landing of the Curiosity rover has galvanized public interest in space exploration and today's announcement makes clear there are more exciting Mars missions to come."
InSight will be ready to depart Earth in March 2016 and should land in late September of that year. It is forecast to have a two-year life span, but its solar panels may be able to power it long after that date. ®