Nimbus jiggles Gemini flash box, hits 1 million IOPS sweet spot
Ten-year warranty
---
Nimbus Data has been in the all-flash array game for a while, so much so that it just pushed out a third-generation iteration of its Gemini flash array. The new Gemini hits that million IOPS performance level and also boasts a waranteed 10-year working life from consumer-grade flash along with the two high-availability controllers that give the product its name.
Nimbus is an all-flash storage array start-up with two products: the gen 2 S-Class for small and medium businesses, and the bigger, faster, no SPOF (single point of failure) E-Class for enterprise.
It has reached 230 customers, which, famously, include eBay and the US DoD, and touts its 500 per cent year-on-year revenue growth and ten consecutive profitable quarters as evidence of its credibility as a startup supplier. These customers have typically replaced disk drive arrays with Nimbus flash storage to gain big wins in data access performance, and data centre space and power-efficiency.
Gemini was going to be a new S-Class and builds on the E-Class' ideas to produce an enterprise S-Class, christened Gemini because of its two high-availability controllers. It uses 24nm consumer grade MLC flash instead of the previous systems' 34nm enterprise-grade MLC stuff and there is a big increase in density; to 48TB in 2U.
Speeds and feeds
Nimbus builds its systems around Enterprise Flash Drives (EFDs), hot-swappable from the front of the array, and these shoot up from 400GB or 800GB capacities to a maximum 2TB, taking a rack's worth of Gemini systems up to a petabyte, about double what it was before. Assume a 3:1 deduplication ration and the effective capacity would be 3PB.
The table below summarises the main hardware aspects of each product: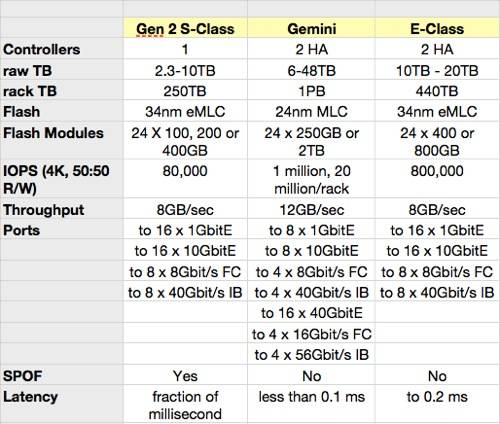 Nimbus S-Class, Gemini and E-Class product speeds & feeds
Performance goes up from the E-Class's maximum of 800,000 IOPS to a million per Gemini, that's a cool 20 million for a rack of the boxes.
There is an up to 12GB/sec throughout, 50 per cent more than the S-Class, and latency drops to below a tenth of a millisecond, less than half of the E-Class. Nimbus says performance is consistent even with the array being 90 per cent full.
The endurance is rated at ten years life with 1.2PB of data written per week. The controllers detect flash cells with a longer than average endurance, so-called bright spots, and take these into account. Customers can set the controllers into an active-active and active-standby configurations and a single and dual controller models will be available.
Software and capacity updates are non-disruptive. The system is up to 99.999 per cent available and the RAID scheme provides a self-healing capability that Nimbus says is six times faster than disk.
Gemini has a system dashboard that shows the estimated endurance, with single per cent decrementing. When the endurance is shortening down to a month or then you can replace the flash drives, two at a time, and the system will ingest the new drives and layer data on them. Carry on doing that until all the drives are replaced and you get another ten years of endurance out of the system.
Gemini uses the same Halo operating system as the S- and E-Class systems, with unified file and block access, automatic reclaimation (VAAI), thin-provisioning, in-line deduplication and a distributed write cache architecture, based on having DRAM on each EFD with an ASIC managing the show. There are no licence fees for the software.
The I/O port area is interesting, featuring I/O controllers whose personality can be changed by a software update. One controller provides four QSFP ports with FDSR (56Gbit/s), QDR (40Gbit/s) and DDR (20Gbit/s) InfiniBand and 40GbitE, 10GbitE and 1GbitE.
Another controller offers four SFP+ ports with 16Gbit/s, 8Gbit/s and 4Gbit/s Fibre Channel, and 10GbitE and 1GbitE.
Existing Nimbus customers can take advantage of a "seamless" upgrade to Gemini. The system offers lights-out management with a remote management link. Okay, it's hunky box that's bigger, faster, longer-lived and better than the preceding products. How does it compare
Competition
Nimbus has provided a couple of competitive comparison tables, comparing Gemini with all-flash array products from Pure Storage, SolidFire, TMS, now owned by IBM, and Violin Memory: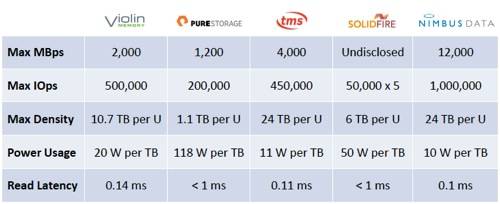 One of the notable differences is that Nimbus has a lower power usage, possibly reflecting the more power-efficient 24nm NAND chips. Its speed of response, latency, is better than the other systems, its connectivity options broader and faster, and the supported protocols including, uniquely, file access as well as Fibre Channel and iSCSI block.
The cost/GB and Cost/IO are based on list prices but that's better than no guide at all, and Nimbus emerges as the most cost-effective system.
Skyera launched its Skyhawk all-flash array last week, with general availability next year. How does that compare?
It uses smaller geometry flash, 20nm, and provides a five-year endurance, rather than 10. It includes an in-built Ethernet switch with 1GbitE and 10GbitE supported. The big wins it has are density, offering 44TB in 1U, and a $2.99/GB raw cost, substantially less than Nimbus. It is of course a version 1.0 product, whereas Nimbus's Gemini is a third generation one.
Coming competition will include EMC's XtremIO box.
The current Nimbus E-Class flash array now looks out-paced and redundant in the Nimbus range and we may ask whether it might fade away over time. Gemini will be available in the fourth quarter of this year and its arrival, together with Skyera's, possibly presages a round of product refreshes among the other all-flash array vendors. ®