Hard-up fondlers rejoice: Tablet PC prices plummet
Analyst: 'If you aren't an iPad, you'd better be cheap'
---
Good news for would-be tablet owners without a pile of cash to spend: prices have dived 13.6 per cent in the past year – if you don't count the iPad. Apple's tablet came down in price too, but only by 3.45 per cent.
And that's because being cheap is the best way to get noticed for non-Apple tablets, says IMS market analyst Gerry Xu:
There are few innovations from vendors to differentiate their tablets; low price seems to be the major factor to attract consumers to buy tablets other than iPads.
iPad still has 70 per cent of the market, Q2 sales figures showed, and that share increased last quarter.
The stats were gathered by Idealo, a Euro price comparison website that surveyed the prices of 1,200 tablet products from 149 manufacturers found on its site. Idealo averaged out the price of a given product across different outlets, using its "click data" to work out which places consumers were buying from. That makes its price averages reflect more accurately what is actually being bought.
Looking only at price changes in 2012, the spring price fall is even more marked. Archos tablets saw the biggest price dives: the average price of Archos tablet PCs declined the most from February to June 2012, decreasing by 27.2 per cent. The average prices for Samsung, Asus and Archos dropped 17.5 per cent from €455.02 to €375.37 during this time period, with Apple iPad prices decreasing only 4.5 per cent.
Increased competition from the sheer number of new entrants in the market is one of the reasons that prices have gone down, says Idealo. Another is a post-Christmas price fall hitting between February and March 2012.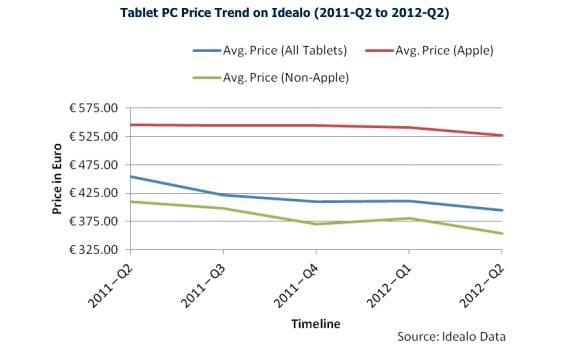 Graph via Idealo
With the launch of the third iPad in March, $100 was knocked off the iPad 2 price tag, causing the slight fall in average Apple fondleslab prices during the past 12 months.
Analyst Salman Chaudry from Context said that the figures were broadly compatible with what he had seen, but proffered a slightly different perspective on the price wars - saying that higher-priced tablets by the likes of Asus and Samsung actually did well.
At the moment in the industry, a number of vendors have made a concerted effort to be more dominant in tablets, because they're going for visibility, not because they're making a profit. These tablets are completely based on average selling price rather than features.

That's why Asus and Samsung are doing a lot better – because they are focusing on features, not price.
Chaudry put the 1,200 product list in perspective, calculating that each product line would have up to a dozen variations in screen size, capacity etc, with each variant being counted as a separate product. He estimated that there were a likely 150 tablet product lines.
He said he had 1,544 different products listed as stocked by disties and resellers in the UK (a figure that includes convertible tablets.)
Even Microsoft seem to be playing the "If you can't be better, be cheaper game" - with rumours from Redmond suggesting a $199 tab. ®