Creepy skull find proves Man penetrated Asia 60,000 years ago
Modern humans invaded continent earlier than thought
---
Pic Bone-bothering boffins have stumbled across an ancient skull in a Laos cave that puts modern human migration through Southeast Asia 20,000 years sooner than previously thought.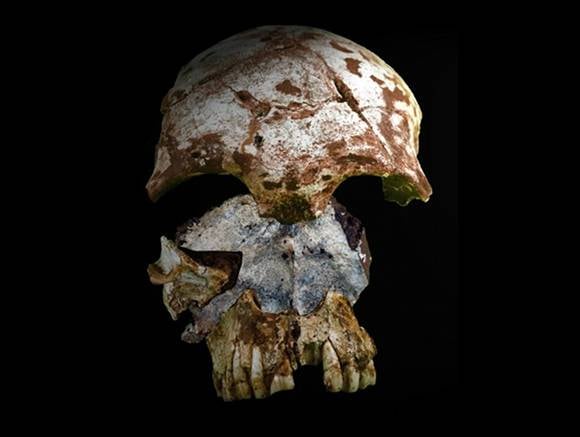 The oldest human skull to be found in Asia, estimated at around 63,000 years old, was found in a cave in the Annamite Mountains in northern Laos in 2009 and it pushes back the clock on when ancient wanderers from Africa left the coast and moved inland.
"It's a particularly old modern human fossil and it's also a particularly old modern human for that region," said Laura Shackelford, University of Illinois anthropologist. "There are other modern human fossils in China or in Island Southeast Asia that may be around the same age but they either are not well dated or they do not show definitively modern human features. This skull is very well dated and shows very conclusive modern human features."
The location of the find shows that early modern humans didn't just go along the coast to the islands of Southeast Asia and on to Australia as other boffins have suggested, but also moved north into different terrain.
"This fossil find indicates that the migration out of Africa and into east and Southeast Asia occurred at a relatively rapid rate, and that, once there, modern humans weren't limited to environments that they had previously experienced," she said. "We now have the fossil evidence to prove that they were there long before we thought they were there."
On top of that, the ancient skull shows that modern humans were in that part of the world at least 60,000 years ago.
Radiocarbon dating and luminescence techniques dated the soil above, below and around the skull, which was found nearly 2.5m below the surface of the cave. The dirt was put at between 46,000 and 51,000 years old. But uranium/thorium dating puts the skull's age at around 63,000 years old.
The bone boffins reckon the skull date is right because they didn't find any other artefacts with the remains, suggesting that the cave wasn't a dwelling or a burial site but that the body washed into the cave at some point.
The paper on the ancient migrant was published in the Proceedings of the National Academy of Sciences of the United States of America ®.