This article is more than 1 year old
NetApp: Flash as a STORAGE tier? You must be joking
Reselling Fusion-io hardware
Completing its array-to-the-server flash vision, NetApp is rolling out server flash caching software, reselling Fusion-io server flash cards, and validating seven third-party server flash products with its ONTAP arrays.
The company emphatically disagrees with flash as a storage tier, saying it is both simpler and more efficient to use flash as a hard disk drive cache. Its Virtual Storage Tiering (VST) technology uses flash caches to do this. NetApp has used flash to provide Flash Pool volume-level caching inside its arrays, Flash Cache caching inside its controllers, and now Flash Accel software, the three legs of the VST stool.
Applications in the servers request data services from NetApp's ONTAP arrays and the read data is cached by Flash Accel in third-party flash hardware, PCIe or SSD, providing an up to 90 per cent reduction in application and server latency. Flash Accel is free to download by NetApp customers and has some API-level integration with NetApp's array software, ONTAP. It has a 2TB capacity limit.
There is a 4K block size in Flash Accel, meaning the whole cache does not have to be refreshed if there is a data coherency problem, only the affected blocks. The software in its v1.0 form supports Windows and VMware vSphere.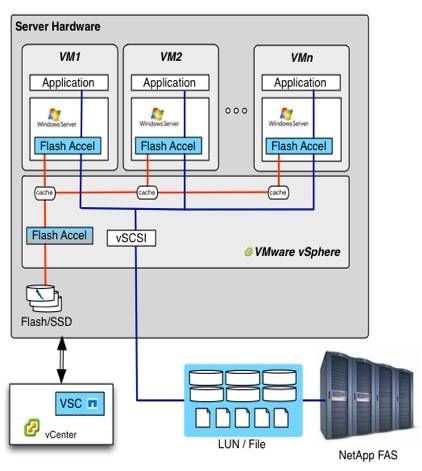 Flash Accel schematic
NetApp says Flash Accel deals with "data coherency issues that can cause data corruption using automated data coherency detection and correction software technology. ... [It] preserves cache content consistently with applications in the event of server and VM reboot and crashes so that [the] cache restarts in a warm state [which] enables consistently high performance."
It has set up a Server Partner Caching Alliance with seven members, so far, whose flash hardware is validated by NetApp to work correctly with Flash Accel, and whose caching software has data management compatibility with ONTAP. The partners are Fusion-io, LSI, Micron, QLogic, SanDisk (FlashSoft), STEC and Virident.
LSI and Micron provide PCIe flash cards to EMC for its VFCache product. They are also working with NetApp's FlexPod partner Cisco, to have their technology integrated with some of its blade servers.
QLogic is adding flash to its server host bus adapter (HBA) and CNA card product technology. With these cards it's already sitting on the SAN-server data pipe and will be able to cache the data as well as format it for transport to/from the array.
Many of these suppliers have their own server caching software and they could work with NetApp to use the ONTAP APIs and get some back-end array integration.
Suppliers with server flash cache products not on the list include Kaminario, OCZ, and TMS, which is being bought by IBM.
NetApp will also resell Fusion-io ioDrive 2 hardware, a line of PCIe flash card products, and its ioTurbine and Direct Cache software. It will not resell Fusion's ION software which turns flash-filled servers into SANs; such systems would compete with ONTAP arrays.
Servers that use Flash Accel will send fewer read requests to ONTAP arrays, freeing their controllers up to do other work, such as responding to write requests and carrying out data protection functions.
NetApp says that Flash Accel and Flash Cache are a good choice where applications have:
High read ratio
Flash Cache improves disk latency on server-side cache miss
Flash Cache accelerates server cache "warming" and "re-warming"
Flash Accel and Flash Pool should be used with write-intensive workloads as Flash Pool provides a reliable and highly-available backend for Flash Accel.
NetApp positions Flash Accel against EMC's VFCache by saying Flash Accel is open from a hardware point of view, may have a capacity advantage, has more granular protection against data coherency problems, is free to download, and is not SAN-only.
Glam slap provider Revlon has been checking Flash Accel out. Its SVP and CIO David Giambruno said: "We've been testing Flash Accel from NetApp and have already seen considerable efficiency and performance gains from our applications."
For legacy server vendors Dell, HP and IBM, the use of EMC storage by their customers brings in the threat of Cisco and Lenovo servers and Cisco networking. NetApp will be less of a cuckoo in their customers' nests because it has a much looser arrangement with Cisco than EMC, and has no server or networking ambitions of its own.
If groups of servers start using a shared all-flash storage resource across a high-speed server-area network link such as InfiniBand, then NetApp may have a problem. It may then face a customer need to have an all-flash shared storage tier (not cache) resource, and then be unable to satisfy it, leaving that customer opportunity open to EMC with Xtremio, Fusion-io ION partners, Violin Memory, Pure Storage and other all-flash array startups.
The El Reg storage watchers think NetApp will bite that bullet and produce its own server area flash array linked, of course, to its backend ONTAP arrays.
NetApp's server flash strategy answers its customer needs for application acceleration, neatly builds in support from third-party server flash product vendors, links NetApp to the server flash market leader, Fusion-io, and nicely underscores how NetApp is much less of a threat to legacy server system vendors than EMC.
Flash Accel will be on display at the NetApp booth at VMworld in San Francisco from 26 to 30 August. The software will be available in December. Fusion-io products being resold by NetApp are available now. ®