This article is more than 1 year old
Ageing star sucked retinue member to death, evidence indicates
Engorged with telltale chemical after swallowing
Astroboffins have spotted the first evidence of a happily digesting red giant star that recently devoured one of its planets, one of the many apocalyptic fates that could happen here on Earth.
Researchers peering through the Hobby-Eberly Telescope realised what the greedy star, known as BD+48 740, had done when they saw a massive planet in a surprisingly elliptical orbit around it. That world, more than 1.6 times the size of Jupiter, shouldn't really be going around its sun at such an elliptical orbit - the only way that would happen is through gravitational interaction with another planet.
"We discovered that this planet revolves around the star in an orbit that is only slightly wider than that of Mars at its narrowest point, but is much more extended at its farthest point," team member Andrzej Niedzielski of the Nicolaus Copernicus University in Torun, Poland said.
"Such orbits are uncommon in planetary systems around evolved stars and, in fact, the BD+48 740 planet's orbit is the most elliptical one detected so far."
The boffins reckon that the dive of the eaten planet towards the star just before it became a red giant could have given the surviving planet a burst of energy that threw it into its strange orbit pattern.
Their theory is backed up by the chemical composition of the red giant star, which has an abnormally high amount of lithium. Lithium was created in the universe during the Big Bang and is easily destroyed in stars, meaning it doesn't hang around inside them for long. This older star wouldn't have the amount of lithium it does unless it created some for itself.
"Theorists have identified only a few, very specific circumstances, other than the Big Bang, under which lithium can be created in stars," Alex Wolszczan of Penn State University said. "In the case of BD+48 740, it is probable that the lithium production was triggered by a mass the size of a planet that spiralled into the star and heated it up while the star was digesting it."
This lithium-polluted red giant is older than our Sun and has a radius around eleven times bigger, but that doesn't mean that the same world-eating behaviour couldn't happen in our solar system, it just won't happen any time soon.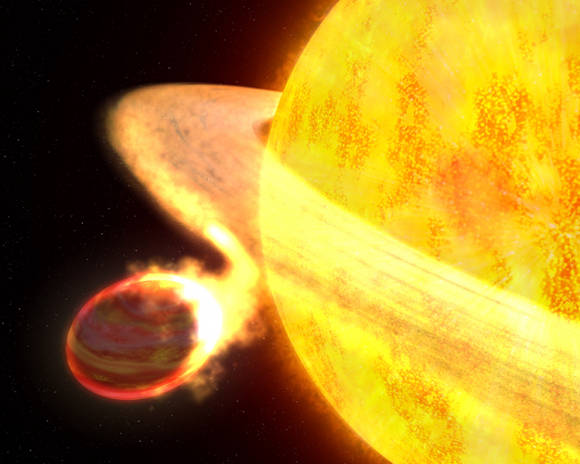 WASP-12b getting devoured by its sun. Credit: NASA/ESA/G. Bacon
"A similar fate may await the inner planets in our solar system, when the Sun becomes a red giant and expands all the way out to Earth's orbit some five billion years from now," Wolszczan warned.
Two years ago, boffins using the Hubble space telescope spotted a doomed planet being slowly eaten by its parent star as its orbit is too close to it. WASP-12b has been superheated to around 2,800 degrees Fahernheit and is being stretched into a rugby ball shape by massive tidal forces. NASA gives it just ten million years to live before it gets completely eaten up.
The BD+48 740 study was published in The Astrophysical Journal Letters. ®