This article is more than 1 year old
Darksiders II
Cower, brief mortals
Review Typically, the only death I have any time for in my life is Terry Prachett's characterisation of Death and his constant fascination with humanity's foibles. Unsurprisingly, the Death of Darksiders II is a different incarnation altogether, a less bleak and more blood thirsty kinda guy.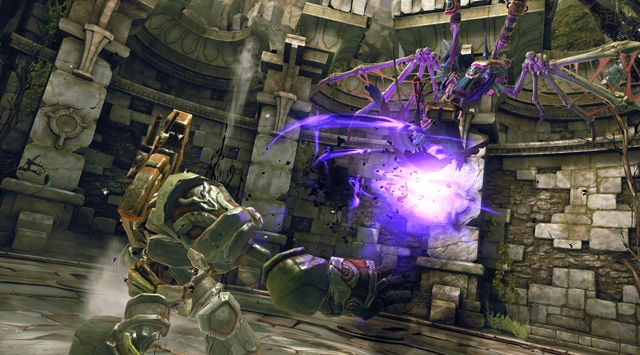 Purple blaze
Life's not easy for the Four Horseman of the Apocalypse. War has somehow been duped into bringing about Armageddon early, something I personally thought he would have got brownie points for. I play his sibling Death (we've all been there) and I need to clean up the mess and restore humanity and my brother's name. So lots of stuff dies, which is hardly surprising given I've reaping the grim rewards of playing, er, Death.
Even though it's had to get to grips with a man in a mask I already have a soft spot for the Reaper Man not least because of the voice acting. Ever since Michael Wincott's star turn as Top Dollar in The Crow I felt his husky voice has been under used and his portrayal of Death sends shivers up my spine.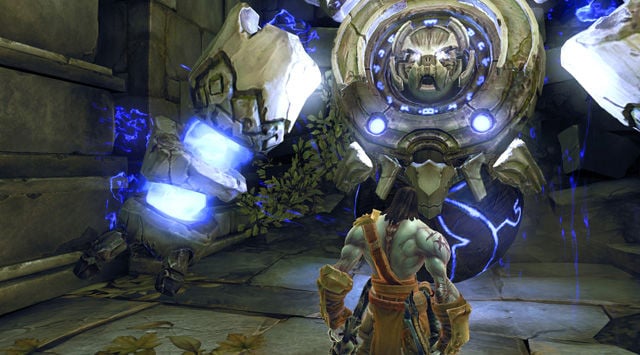 "Help, I have my head stuck in a toilet bowl"
I could now list the games that Darksiders II reminds me of, but does it really matter if it's a homage, parody or just plan derivative? The bottom line is it's probably a mix of all three plus a knowing wink but that doesn't make Darksiders II any less fun. It's a powerhouse of demanding puzzles interspersed with gymnastic gameplay and gory combat.
I wasn't a fan of the original Darksiders for countless reasons, but mainly due to it being dull with War was firmly rooted on earth, a broken and tattered landscape. Darksiders II sees Death roam an epic vista. Blizzard should be envious of this massive magnificent killing floor of colour and light, which somehow adds to the sense of decay and despair. This is a much more open world than its predecessor, which positively encourages exploration.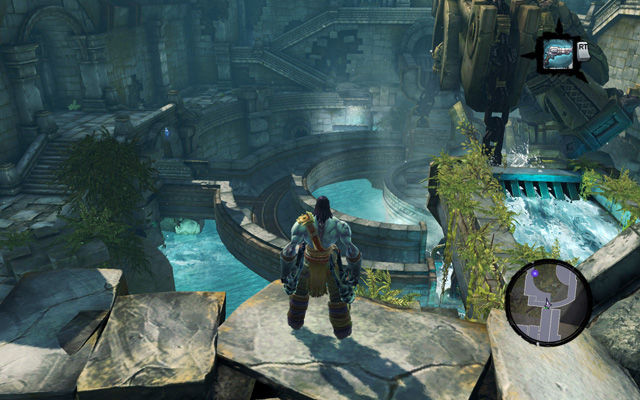 Dam, looks a long way down
For a landscape this big I'll need a horse. Luckily, Despair – rather than Discworld's Binky – my equine of euthanasia can be summoned at the press of a button. Also, fast travel helps by selecting a destination and I am then spirited there quickly.