Curiosity preps for first Martian road trip
Rover gets ready to roll three metres from landing site
NASA's Mars rover Curiosity has wiggled its four corner wheels for the first time to get ready for its first drive across the surface of the Red Planet.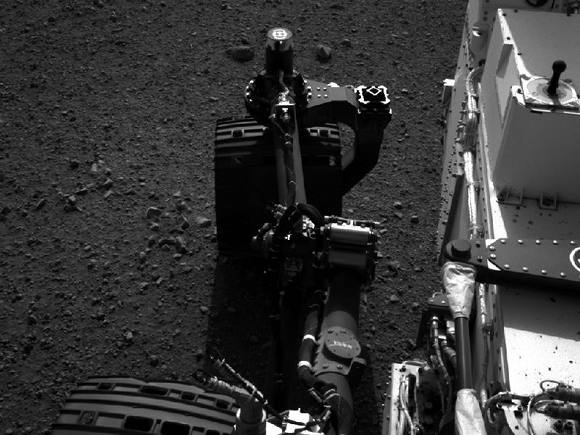 The $2.5bn six-wheeled Martian nuclear truck has been sat still on its landing site for the last two weeks, but is now gearing up to trundle out on its mission to find signs of life – and the agency said that a busted sensor was not going to get in its way.
Curiosity has been investigating the Martian weather and checking the on its surface while it prepped for its first drive, checking air and ground temperature, air pressure, wind and other variables every hour.
The rover's weather station readings sent back to Earth revealed that one of its wind sensors was broken, sending back nonsense data to NASA.
"One possibility is that pebbles lofted during the landing hit the delicate circuit boards on one of the two REMS booms," said Curiosity deputy project scientist Ashwin Vasavada. "We will have to be more clever about using the remaining wind sensor to get wind speed and direction."
Even with the trashed sensor, the space agency has determined that so far (over the past two weeks) the air temperature has swung from -2 to -75 degrees Celsius, while ground temperatures between the afternoon and the pre-dawn morning can plunge from 3 to -91 degrees Celsius. NASA plans to use Curiosity to give a daily Mars weather report online.
A Russian instrument on board the rover is also prospecting for water in the top three feet of soil under the vehicle, using the same technology that's used to find oil on Earth.
"Curiosity has begun shooting neutrons into the ground," said Igor Mitrofanov of Space Research Institute, Moscow, the principal investigator for the Dynamic Albedo of Neutrons or DAN. "We measure the amount of hydrogen in the soil by observing how the neutrons are scattered, and hydrogen on Mars is an indicator of water."
Now that the rover has got the data from the landing site, it's time to move on to a new patch of soil in its search for evidence that water is or once was on Mars. Late last night, NASA sent Curiosity the commands to start its first drive today, going forward three metres and then backing up a little less than that, Mars Space Lab mission manager Mike Watkins said.
If Curiosity manages that manoeuvre, it'll be ready to take off across the planet for real in three or four days, after it completes a few more tests and activities at the landing site. ®