LOHAN turns up the heat on Vulture 2 motor
Space-grade toaster to keep spaceplane engine warm
We know you lot like a nice bit of kit, so you'll certainly enjoy the latest piece of high-tech gadgetry to turn up at the SPB's mountaintop headquarters.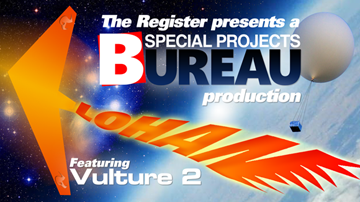 As you know, we've been busy conducting experiments with the Rocketry Experimental High Altitude Barosimulator (REHAB) hypobaric chamber, to see if we can persuade solid rocket motors to fire at simulated high altitude.
The answer is yes we can, although we're waiting on delivery of some more motor reloads for further low-pressure tomfoolery, which will settle the matter once and for all.
One of our major concerns is the effect of temperature on the motor at altitude, where things can get down to a decidedly chilly -60°C.
As part of the Vulture 2 design process, the elite Southampton University team is contemplating insulating the motor casing, but we decided to launch a pre-emptive strike on the problem to make absolutely certain the motor doesn't freeze.
So, ladies and gents, we'd like to present one motor toaster: a space-grade Polyimide Thermofoil flexible heater...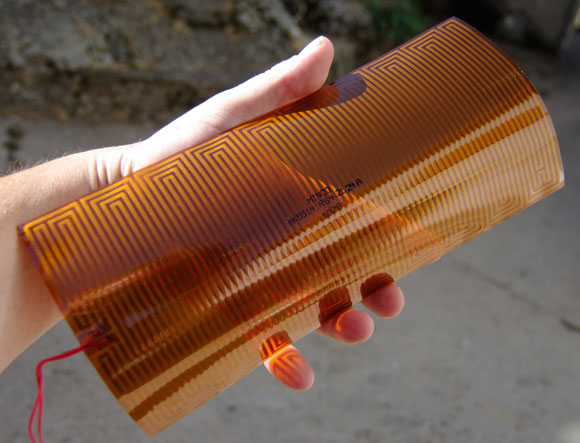 Our cunning plan is to epoxy this slim electrical sexiness around the rocket motor case, add a layer of insulation and let it work its magic.
We haven't yet determined just how to power the magical process, and testing is in order to see just how much juice we need and for how long.
The heater accepts a range of voltages, so we've got plenty of powering options. Obviously, if we go with batteries, we can't stick these in the Vulture 2, because of weight considerations, so we have two possibilities: 1) Put the batteries in the electronics enclosure of our fantastical flying truss; or B) Use external battery packs to pre-heat the motor on the ground, and rely on the insulation to do the rest.
Alternatively, we could pre-heat the motor using mains juice and a transformer.
We shall see. The heater has just been unboxed, so we've haven't had time to do more than admire its sexy form. According to the spec sheet, its effective area is 46.54 in2 (300.257 cm2), and its resistance is 64Ω.
A quick calculation reveals that at 12V, it'd be running at 0.1875A and pumping out 2.24W, which translates to a watt density of 0.05W/in2, or 0.0078W/cm2.
That modest figure is way below the maximum allowable watt density of 29.2W/in2 when the heater's bonded to the motor with epoxy, so we've got loads of leeway to pump up the volume.
No doubt our LOHAN fans and resident experts have an opinion on the matter, and as ever we're happy to take on board you comments/suggestions, before we get down to putting our shiny new toaster through its paces. ®
Further LOHAN resources: