NASA: WE'VE FOUND Four-toed NON-HUMAN FOOTPRINTS
'Photos taken on Earth', insists amateur scientist
US space agency NASA, one of the few organisations with probe craft operating beyond Earth orbit (for instance upon the surface of Mars and above planets and moons still further-flung) has stunned the world by releasing photos of a huge, four-toed footprint dating from more than 100 million years ago.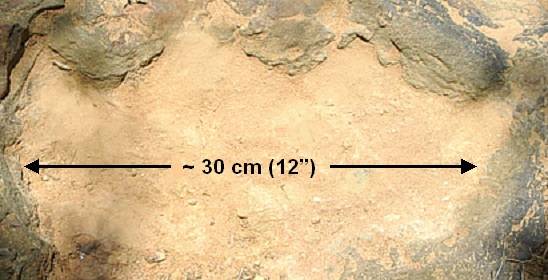 'Huge, armoured creature' left this dinnerplate sized print
In an unusual twist, the space agency refuses to divulge just where in the solar system the massive footprint was found: according to a NASA statement this information is "sensitive", which would naturally lead to speculation that the US government is hushing up information on nonhuman life forms for one of a variety of reasons.
It's always possible that the concern here is to suppress any public panic regarding a possible alien invasion etc, and in this context it's worth noting that the space agency believes the print must have been left by a "large, armoured" creature, describable as "a four-footed tank".
However in more reassuring news it appears that the print is more than 100 million years old, and was made - NASA says - at a time when "the bright, barred spiral galaxy NGC 3259 was just forming stars in dark bands of dust and gas".
NASA is of course well-known in some circles* for having staged the Moon landings of the 1960s and 70s here on Earth for one of a variety of purposes, and in this context it should be noted that a keen amateur scientist, dinosaur expert Ray Stanford, has come forward to insist that in fact the footprint is nothing more than an ordinary terrestrial Cretaceous-era dino print.
Stanford, in fact, says that the footprint - most probably made by a hefty brute known as a nodosaur - is located in the grounds of a large NASA facility, the Goddard Space Flight Centre in Maryland: which would account for the space agency being able to successfully keep its location secret.
Read all about it here. ®
*Mad ones