Apple's patent insanity infects Silicon Valley
Patent trolls go nuclear
---
Open ... and Shut Spotting a patent troll used to be easy. They were the ones who sold lawsuits, not products. Companies like Intellectual Ventures picked up the title "patent troll" from critics as they went beyond buying and licensing patents to suing companies like Dell and Hewlett-Packard over claimed violations.
That is, until the industry started to adopt the behavior of the patent trolls, looking to intellectual property lawsuits and licensing to fuel revenues. Microsoft is perhaps the most famous of these patent aggressors, but Redmond largely learned its craft at the feet of IBM. Now the patent problem is so widespread that even companies like Apple and Amazon are starting to look like trolls.
When will the madness end?
Not anytime soon, if the morass that is the mobile market is any indication. As the world shifts from PCs to smartphones and tablets, the stakes are huge, leading to an unprecedented volume of lawsuits, as represented here: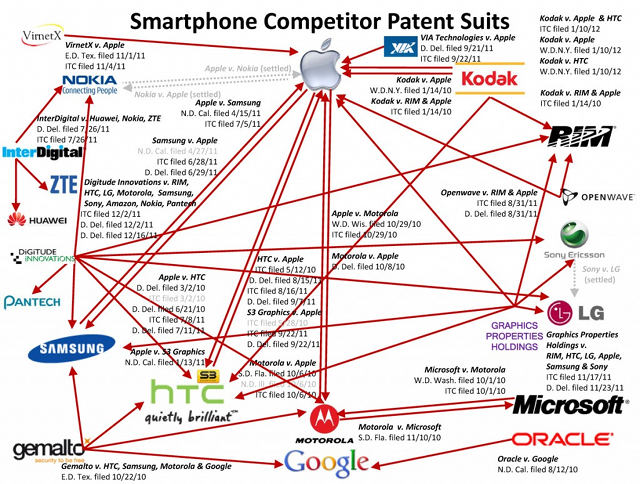 Source: Verizon, published by Forbes
The late Apple chief executive Steve Jobs famously decreed he would go "thermonuclear" to stop Google's Android from allegedly ripping off Apple's products, conveniently forgetting the many instances of Apple "borrowing" from others' IP at Xerox PARC and elsewhere. Google has now turned around and pushed its own "thermonuclear" button, launching a lawsuit against Apple that would ban the iPhone, iPad, and iPods from entry into the US.
Yes, that's right. If Apple and Google succeed, we'll be left with BlackBerrys. Again. Heaven help us.
All of which is silly in the extreme. Even companies like Amazon are hiring an "intellectual property acquisition specialist" to help the company make money by licensing or suing over IP, rather than doing what the company does best: selling products and services. Start-ups once would not bother with such silliness, but Businessweek now proclaims the new start-up creed: "Patent first, prototype later."
If true, how sad. And wasteful.
Rumour has it that Apple had spent $100m on just one lawsuit against HTC. Not only did Apple get essentially nothing from this suit, but think of how valuable that $100m would have been in Jony Ive's hands?
Meanwhile, in a grand irony the company I once crowned the world's biggest patent troll is actually far more likely to be creating and licensing IP than suing over it these days. Yes, that's right: Intellectual Ventures has spent the last year or so shifting its focus toward more and more in-house invention, with a view toward licensing things like anti-malaria products, according to sources close to the company.
This could be because the buy-patents-and-then-sue-alleged-violators model hasn't worked well, as TechDirt speculates. But whatever the cause, I'm hearing definite rumblings that Intellectual Ventures is actually building innovative products now, and engaging in far fewer lawsuits. (Even if true, I still think founder and CEO Nathan Myhrvold is so aggressive in defending the integrity of his company that he ends up actually damaging it.)
Regardless of Intellectual Ventures or Apple, it seems almost commonsensical that copying is necessary for the technology world to thrive, just as it is in other industries, as The Wall Street Journal recently highlighted:
There are many creative industries, like finance, that lack protection against copying (or did for a long time). A closer look at these fields shows that plenty of innovation takes place even when others are free to copy. There are many examples of successful industries that survive despite extensive copying. In fact, some even thrive because they are so open to copying.
Apple is great because Apple has embraced (copied) and extended others' ideas. The same is true of every other technology company. There is no such thing as pure ex nihilo innovation. Everyone builds on the shoulders of those who came before them, whether it's Steve Jobs, Bill Gates, or Nameless Entrepreneur X. The technology industry seems to have forgotten this, and great brands like Apple and Google are sullying those brands with patent troll-like behavior. They should stop and get on with their real business: selling devices, selling ads, selling things. ®
Matt Asay is senior vice president of business development at Nodeable, offering systems management for managing and analysing cloud-based data. He was formerly SVP of biz dev at HTML5 start-up Strobe and chief operating officer of Ubuntu commercial operation Canonical. With more than a decade spent in open source, Asay served as Alfresco's general manager for the Americas and vice president of business development, and he helped put Novell on its open source track. Asay is an emeritus board member of the Open Source Initiative (OSI). His column, Open...and Shut, appears three times a week on The Register.